Funny looking duck!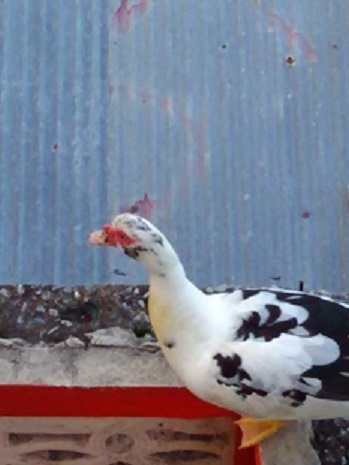 Thailand
6 responses

• Cambridge, England
22 Aug 17
It's a Muscovy duck. They are often kept as ornamental birds but there are some wild populations in parts of the US. They are quite distinctive with their red faces and black and white feathers. I don't know why they are called 'Muscovy'. They have nothing to do with Moscow, as far as I know! They are native to Mexico and parts of South America.

From Wikipedia, the free encyclopedia Jump to: navigation, search Muscovy duck A Piebald Muscovy drake Conservation status Least Concern (IUCN 3.1)[1] Scientific classification Kingdom: Animalia Phylum: Chordata Class: Aves Order: Anseriformes Family: Anat

• Thailand
22 Aug 17
Thank you! I wonder how he got all the way over here!

• Philippines
22 Aug 17
Could be migratory but from the looks of it it can't fly very far lol, so most probably somebody brought it there or brought an egg in and incubated it.

• Switzerland
22 Aug 17
@louievill
NO, this is a non-migratory species, they are wild ducks.


• Australia
22 Aug 17


• Cambridge, England
22 Aug 17
They are kept as pets (or for their meat and eggs) all over the world now. There are many theories about how it came to be called 'Muscovy'. One of the most likely is that the flesh is said to have a 'gamey' or 'musky' flavour and that confusion with the old name for the area round Moscow gave rise to the name.


• Thailand
22 Aug 17
Thanks! It must have been a long flight!