What is your posture while sleeping?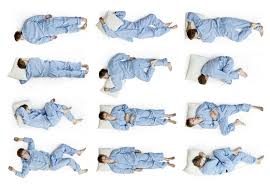 Canada
August 22, 2017 11:58am CST
I love to sleep on right side and feel relaxed. But sometimes, I prefer to sleep straight when I am extremely tired and want to feel comfort on my lower back. There are people who like to lie on bed facing towards bed i.e. upside down. But I rarely sleep in this position. There are others who like to sleep on carpet instead of bed and feel more comfort. I have also seen some of my friends sleeping at sofa set while watching T.V. The kids enjoy to sleep in cradles. What is your sleeping posture which makes you relaxed and comfortable?
5 responses

• Italy
22 Aug 17
Upside down? You mean prone?

Prone and fetal positions, that would be 2nd and 4th in the 3rd column.

Bed is the best choice, but I sometimes sleep in car (passenger's seat, of course).


• Canada
22 Aug 17
i love to sleep straight on the bed, what position you don't like?

• Italy
22 Aug 17
@studylove
Those where my face points at the ceiling, lying on my back, supine ones. Those are very uncomfortable for me, and they sometimes make me snore.


• Canada
23 Aug 17


• Philippines
22 Aug 17
On my back or on my left side.

• Canada
23 Aug 17
Do you like to sleep upside down or you don't like it?

• United States
23 Aug 17
I miss sleeping in my favorite way, I have to sleep either on my back or left side. I loved sleeping on my right side but cant because I have a screwed up shoulder and when I do it causes intense pain. So it is left or on my back only.

• Canada
23 Aug 17
I also love to sleep on right side when i am relaxed other wise if i am tired then i sleep straight to relieve my lower back. Should we wear a lose night dress or a tight one to have comfortable sleep at night?

• United States
23 Aug 17
@studylove
As for what you wear I guess that is up to what you are comfortable with.


•
18 Oct
I toss and turn in my sleep. I start out sleeping on my right side and then go to my back and then to the left side. I go back and fort until I fall asleep. It is hard for my cat to sleep with me because I am not a good sleeper.