Day Two Walk!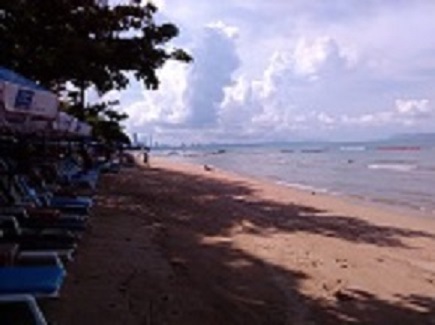 Thailand
August 24, 2017 5:07am CST
Well, I just got home. Although I told myself I would only do one hour, it actually lasted two. I am really enjoying this leisurely walking and although it is tiring, it is nice. On the way home, I stopped by one of the places that I drink at and though I'd have a bottle of cold water. All of the staff were in the back of the club eating lunch but they immediately recognized me. I was sitting at the bar and within a few minutes, there was a large glass of water in front of me as well as a nice dish of assorted Thai foods. And all at no cost! What a great place to live! The picture is of Jomtein Beach where I walked today.
8 responses

• Canada
24 Aug
I started "walking" for fitness in April. I walk a minimum of 4 km a day. Some days I will go as far as 13km. I feel good at the end of the day. I've lost weight and seem to have a lot more energy.

• Canada
24 Aug
@Morleyhunt
, That is great! Keep it up. I walk when I am strong enough. Unfortunately, it is not enough but I still enjoy it a lot.

• Canada
24 Aug
@marlina
it's a good thing I'm healthy....it seems everyone wants something from me.

• Canada
24 Aug
@Morleyhunt
I am glad that you are healthy! Most precious thing in life!


• United States
25 Aug
How long have you been living in Thailand? And where did you grow up, born and bred? And how did you come to Choose Thailand as your home?

• Thailand
25 Aug
I was born in Brooklyn and at 14 went to Burbank, CA with my parents. I did three years in the Army in the mid 60's, and I usually don't talk about my experiences there. In 1977 I visited Thailand for the first time and while I was in the immigration queue I knew that this would be my home. Just a strong feeling but I always follow them. In 2008 I finally moved here. Of course there are some things I miss about the States - mostly inexpensive cheese - but I have no regrets about making this Kingdom my home.

• United States
25 Aug
@jaideemai
I know Burbank. LOL I was born here in WA state, and at 18 months moved to SoCal. Ended up in the San Fernando Valley in 1960, and specifically Granada Hills about 1962. I understand re: Army in the mid 60s; just know that my heart is there, esp. for my fellow vets. 'Nuff said. Funny about the "inexpensive cheese," as I like GOOD cheese, which is ridiculously priced here, but one can get incredibly inexpensive (relatively speaking, of course) in Europe. But then I don't eat anything that is called "processed American cheese 'food'," all-wrapped up in individual plastic sheets. *chuckles* So good to "meet" you. Thank you for sharing.

• Thailand
25 Aug
@CoralLevang
American Cheese...YUCK! I am laughing now because years ago, LAYS potato chips had a flavor here. On the package, it said, "Squid Flavor...America's Favorite"! I am happy to meet you as well! Burbank High School...Class of "62!


•
25 Aug
Serious! All at no cost? Perhaps I should migrate to that area of yours.


• Thailand
25 Aug
It is a unique place to live. People love to share food with friends and even people they do not know. I can't count the number of times I have been walking around and people invite me to share food with them.

• United States
25 Aug
@jaideemai
having been in the military, I've known people from all around the world. I'm also someone who, when I travel, it's with a backpack and I talked to people. Even when I don't know the language I still try to talk to people. I think, for the most part, people all around the world very generous and the time people are certainly one of the tops!

• Thailand
25 Aug
@CoralLevang
Most of my travel has been in S.E. Asia and I agree if you try to communicate and wear a smile, you will most likely get along!


• East Tawas, Michigan
25 Aug
@CoralLevang
And that's how people are suppose to be, one towards another! One kindness, merits another:)

• United States
25 Aug
Won't get any argument from me there!

• United States
25 Aug
oh, and I just started walking again.

• East Tawas, Michigan
25 Aug
@CoralLevang
Isn't that wonderful, when others know you and display loving kindness, also!:)

• East Tawas, Michigan
25 Aug
@CoralLevang
This kind of thoughtful behavior, would change the entire world.

• United States
25 Aug