Good morning myLot

United States
August 24, 2017 7:32am CST
Hey everyone. I hope your day is off to a great start. It is a gorgeous morning here at the Jersey Shore. 69 degrees F and sunny with clear blue skies. Very nice! I didn't want to wake up at 6:30am after not falling asleep until about midnight so I switched my workout from 8am to 9:30. That gave me another hour of sleep which was much appreciated. I was distressed to discover upon getting up that my fluffy black cat was not at the back door waiting to come in. She wasn't there last night when we got home from trivia either. She went out yesterday morning and hasn't been back since which is very unusual for her as she rarely leaves the yard. I am hoping to see her when I get back from the gym around 11am. Oh well I am off for my workout now. That is all that is on the agenda for today. Need to soak up my last few days of rest and relaxation while I can!

What's everyone else up to today?
11 responses

• United States
24 Aug 17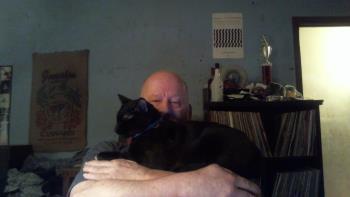 Oh, I'm just looking at how vile and sexist I am according to a brother of mine and his son.

It's kinda funny that no
women
have complained about a facebook post I made...in fact, several have found the same humor in it I did.

Scar sez g'mornin' by the way...

• Pittsburgh, Pennsylvania
24 Aug 17
That is food you got that extra sleep as you will need it for your workout! i am hoping you get some good exercise today. It is warmer in New Jersey than here today. It is 59 degrees this morning and was quite chilly when I stepped out into the yard to bring in the newspaper. I should have work a sweater to get it this morning! Hope you have a great day!

• Jacksonville, Florida
24 Aug 17
I hope your kitty is back when you get home. =( I hope you have a great day!

• Canada
24 Aug 17
I hope your kitty returns home soon.

• India
24 Aug 17
Sorry about your cat.I do hope she comes back later in the day.Have a great day.


• Philippines
24 Aug 17
seems like a good day for you, enjoy your workout.

• United States
24 Aug 17
I do hope your kitty returns home soon. We have the same lovely weather your area is experiencing.

• United States
24 Aug 17
Hope your kitty comes back home and is waiting anxiously for you when you get home. I'm just enjoying this beautiful morning and the drop in temperatures.

• Los Angeles, California
24 Aug 17
Have a good gym session. Hopefully the kitty will turn up.