How can we stop whitening of hair and hair fall?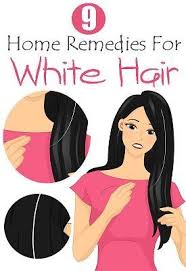 Canada
August 25, 2017 5:03am CST
I am just 25 years but my 70 percent hair have been turned into white color. I can't figure out what is the reason that my hair are getting whiter with each passing day. Sometimes, I blame it for using variety of shampoos which I have been changing now and then. The other thing that bothers me that it may be due to change of water when I travel and stay from one place to another. Besides this, my hair are falling rapidly. What do you suggest that what could be the possible reasons of white hair and hair falling at this young age?
6 responses

• Philippines
25 Aug
I have a bit of white hair and I'm only as old as you. I actually had it checked by a doctor. Yes.. I'm that vain about my hair. lol! The doctor said that it was because of the thickness of my hair strand that would likely lead to early aging. Also, my genes. Since on my father's side of the family, they get white hair at an early age.


• Canada
25 Aug
so you mean to say that it is because of hereditary reasons. But no one in my family has whit hair at this age. What could be the reasons, according to you?

• Philippines
25 Aug
@studylove
That was the reason for my case. You can have that checked on what is the possible reason for you. It's not common to do it, but there are doctors who can help you with that. They are usually available at Hair loss clinics. What's nice is that they can also give you advise on how to keep your hair healthy and strong.

• Canada
25 Aug
@Kattleya
Got it. Do you believe home remedies to stop hair fall or hair whitening?


• Rass, Saudi Arabia
28 Aug
We can not do anything about gray hairs other than dying them black or your preferred color. Falling hair we can do something about that. There are some natural remedies available and some tutorial provided in YouTube. There are also topical sprays and oils that promote hair growth. YouTube can teach us a lot hehehe...

• Canada
28 Aug
You are right that we can't do any thing with grey hair and can stop falling hair by using medicine.Do you suffer from this problem?

• Rass, Saudi Arabia
29 Aug
@studylove
Yes I do, but I'm almost at my 40's so I am not that worried. My hair line is gradually residing. So rather stress my self , I am embrassing the thought of me going bald and shave my hair.

• Canada
29 Aug


•
25 Aug
This is not correct but from what I heard and thought is that white hair is from stress unless it's different from I'm imagining it. I have white hairs myself for that reason and everyone said from stress. As far as falling down hair, I heard it is from hormones but I'm really not too sure.

• Canada
25 Aug
May be you are right. I have also been suffering from stress since last three years due to one reason or the other. Do you wash your hair daily?

•
25 Aug
@studylove
Yea pretty much nothing like that has happened to me....lol....or at least not yet lol.

• Canada
28 Aug
@fearjp
Do you wash your hair in the morning? or before going to bed?


• Baguio, Philippines
25 Aug
I think it is due to hormonal imbalance... Try to search on it, something related to thyroid disorder, vitiligo, and Vit. B12. What about using aloe vera extract? Hope it could help.

• Canada
28 Aug
Dear do you also face this problem of white hair? and have you tried the tips you are referring?

• Baguio, Philippines
28 Aug
@studylove
I have about 5% white hair but not easily noticed. I'm 41. I have a friend, male, he's hair is almost white. My wife is a radiologist, and actually, my above statement is according her. I was prompted to impart it here also when I saw your topic, wishing somehow it might help. I know it's not just you who have this problem...:)

• Baguio, Philippines
28 Aug
@studylove
Try using Aloe Vera fresh extract. My brother in law has tried it also and it's found effective. Massage it about 15-20 minutes then rinse.



• Canada
28 Aug
@studylove
I have a lot of hair. I don't need more!

• Canada
29 Aug
@paigea
That is good that you have dense hair. Do you like long hair?


• United States
25 Aug
I would strongly suggest seeing a dermatologist. There might be a simple fix, or you could be allergic to something. It also might not be, but in the meantime, use as little hair product as possible (like gel or hair spray). Use shampoo with as few ingredients as you can find, and try the vitamin, Biotin. It has been known to strengthen hair and nails.

• Canada
25 Aug
May be that is the reasons that i have been using too many products on my hair. Do you suffer from this problem of hair fall or hair whitening?