Can I make her more intelligent?

Philippines
August 28, 2017 5:04am CST
It's hard to be a tutor to a slow learner child. You will always feel disappointed if she gets low grades and lots of errors in her seatwork. But I keep thinking I'm trying my best to help her to be more intelligent. I experience tutoring bright kids and I feel satisfied a lot because they learn quickly and get things right quickly. Wish I can help my only one tutee to be more intelligent. She's not good in memorization and is poor in spelling.



9 responses


• Philippines
28 Aug 17
I keep repeating things over and over to my tutee until she gets it. She is not that serious in her studies and a little lazy and careless that's why she is not learning that well

• India
29 Aug 17
@averygirl72
They lack concentration, that is the point. Otherwise most of the kids are intelligent.

• Philippines
29 Aug 17
@Sreekala
You got it right absolutely. They just lack concentration and interest. Sometimes they find it boring to study and they want playing more


• Philippines
28 Aug 17
I`m a slow learner and for me I need a lot of time to get some points on a discussions during my school years and this good teacher believed that I`m not..She was my history highschool teacher and adviser, I like her way of teaching. I remember, I got an average score in her subject and talked with me privately, asked me " Do you have some things in mind that you might want to ask me now? Maybe, I can help you" and smile..That time I was speechless and can`t say anything but I got challenged and tried to see what I really can`t understand with her subject until one time she said "Did you know that when you want to remember something, it will be more helpful if you understand it?" And I think she was right..So I guess it might work if you know some activities that can make them understand and from there they can improve themselves..Wish you a nice day



• Italy
28 Aug 17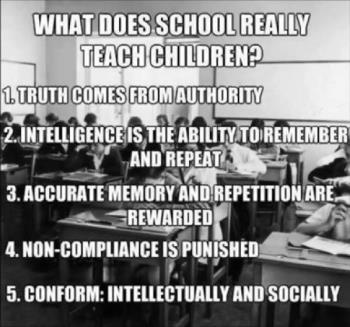 @m_audrey6788
I see the picture above quite often. I was lucky just like you were, we had good teachers. Therefore, my aim was never to memorize, but to comprehend and cherish what I was told. And analyze what I was told. The best way to do so is by asking questions. The curious child tends to learn fast. Guessing the right answer is also a very rewarding feeling for a kid. Unfortunately we're always told the answers right after the questions, most of the times we aren't allowed to think and reason.


• Philippines
28 Aug 17
@sabtraversa
..Hmmm..You got a good point..That`s why sometimes, we need to look at the questions first more and figure it out why the answer came up like that..Curiosity will always strike to those who have efforts to know more even if it`s not easy for them



• Philippines
28 Aug 17
I try to explain to her the lessons in the level that she can easily grasp. She's having a hard time too in Science. She don't understand Science that much but she is good in mathematics and computations


• United States
28 Aug 17
I don't have the patience to deal with teaching someone that is a slow learner, which is a fault of mine.


• United States
28 Aug 17
@thehousewife
True, but only until I end up losing patience with them, then they are on their own

• Philippines
28 Aug 17
Hmmm..I don`t think so..

..I like the way you inform newbies when they starts to do something not right



•
28 Aug 17
I tutor a student who is developmentally delayed. I used to get really discouraged because he had trouble spelling. He still has great trouble with reading and math. I have come to accept that he was created differently. I still tutor those subjects but I know his limitations. He shines with music. His mom owns a dance studio and he can tell you the theme for every years performance. He remembers the name of every dancer and what number they performed. He knows dance terminology perfectly. Because of his disabilities (also has cerebral palsy), he will always be limited. So I just focus on what he loves. His spelling improved when I set his spelling words to music. I did the same with multiplication tables. I allow him breaks to talk about his mama's dance classes. This makes whatever he can learn a fun experience. Just capitalize on your student's strengths and find a way to incorporate what she loves.

• Italy
28 Aug 17
@gnatsmom
Songs and nursery rhymes do wonders for pretty much everyone.

Then tutoring should adapt to the student's needs, while school usually doesn't.


• Philippines
28 Aug 17
She does good in math. She is good in computation. It's really a challenge

• Canada
28 Aug 17
Sometimes the slow learners can be more rewarding to teach than those who immediately grasp what you are trying to teach. They are so excited when they finally master a concept.

• Philippines
28 Aug 17
I should not feel down. I should take it as a challenge to help her improve a lot. One day I hope I can make her an honor student

• Italy
28 Aug 17
It's a job that requires a lot of patience and understanding. We all have different brains, but intelligence is sometimes overrated. I think you need 50% intelligence and 50% attitude to get good grades. You need to find out what can make the child memorize better, I'm hopeful.

As other people said here, learning/understanding makes memorizing much easier. Then, we're all different: some have an excellent visual memory; I memorize better when it comes to sounds/spoken words or logic/concepts. Another thing that usually helps is to make songs. I remember too many lyrics, and songs are usually remembered by everyone.


• Philippines
28 Aug 17
I like what you said learning is 50% intelligence and 50% attitude. This girl is not that serious enough in her studies. She's quite easy and relax and she always buy small toys when we are tutoring and wants to play more than pay full attention to her studies

• Italy
28 Aug 17
@averygirl72
Not good.

You need an alternative way, it's hard to convince children that studying is important.

Maybe you can look for didactic movies or videogames/flashgames. If she likes to play, she has to play useful games.


• Philippines
28 Aug 17
@sabtraversa
For some children learning is like a burden to their minds. Their minds is more focus on playing not studying hard terms or studying facts. I should make our session like a game so she enjoy more


• Rass, Saudi Arabia
28 Aug 17
Attack from a different angle... Sometimes you need to be creative to teach others...

• Philippines
28 Aug 17
I will try to be as creative as possible. I will do my best for her to improve academically

• Rass, Saudi Arabia
29 Aug 17
@averygirl72
Do your best my friend. I am also a slow learner and what I do is I draw maps, make pneumonics . And it works for me, sometimes hehehe

• Philippines
29 Aug 17
@Neiltarquin
Maybe her brain is not yet fully developed and her mind is having a hard time learning things. I hope I can awaken her sleeping brain

• Philippines
28 Aug 17
Well, maybe she needs a different motivation, maybe her passion is different. I had a gf before that inspired me to understand the basics of algebra...But that was one time. She may have other talents.

• Philippines
28 Aug 17
She acts smart and active kid but I don't know why she is poor in memorization and spelling and poor comprehension too