"Nice. Going to bed now."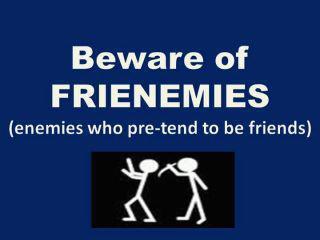 United States
August 28, 2017 10:00am CST
Well, I figured out why we just say, "I'm fine" when someone asks how we're doing. Last night, (on Facebook Messenger) an old classm - no, frenemy asked how my son and I were doing, and when I mentioned my macular degeneration, other eye issues, and my son's job struggles, she said, "nice." How in the name of all things bright and beautiful are sight loss and job search struggles "nice"? Sad thing is, when I told my roommate, he said, "I'm not surprised. What more could you expect from her?" And I thought, "how about a little empathy and sympathy," but knew my roommate was right. There is a part of me that wonders what else this woman has said behind my back since we first met in 1983. But, I also know what she thinks of me is none of my business. Still, I am hurt. * As for the "going to bed now" part, "Nice. Going to bed now. Talk more tomorrow" was what she actually said.But, I don't care to talk more tomorrow with her.
8 responses


• United States
29 Aug 17
True. Now, she did send me a message this morning asking her for forgiveness. I forgave her.

• Australia
29 Aug 17
@Chellezhere
Oh, wonder what prompted her to apologize... I hope she had a nightmare about the hurtful things she said to you...

Did someone remind her or she realized on her own how rude she was?

• United States
29 Aug 17
@sishy7
We went to high school together and lived together for a while as adults. She is also disabled.but not visually. She probably thought about all that.


• Haldwani, India
28 Aug 17
Don't need to be sad for such mean people!! And why you listen to such people!! Don't trust anyone in this selfish_world! And don't worry your son will soon get a very good job!! Don't forget to give me treat!!

• United States
28 Aug 17
@mohit459
, you must be careful on this site. It is even noted in the terms and conditions that disguising profanity in an attempt to avoid the foul mouth filter will not be tolerated. So, if you would like a gift from me, I will offer the following advice. Do not use any profanity on here (even with !,
@
, # $, or *) because it will get you banned.

• Haldwani, India
28 Aug 17
@Chellezhere
Thanks for advice!! I will surely follow what you said!!

• United States
28 Aug 17
@mohit459
Thank you for removing that "F-Bomb." That is not an acceptable word at all.


• United States
28 Aug 17
That "nice" response comes from someone who has no idea how to communicate appropriately with other humans.

• United States
28 Aug 17
Yes, it sure does. And, she calls herself a Christian. She even goes to church every Sunday, and some other days as well. But, the Devil sometimes hides in our churches too.

• United States
28 Aug 17
@Chellezhere
Sometimes those folks are the worst when it comes to dealing with humans.

• United States
28 Aug 17


• United States
1 Sep 17
Thankfully, it is just a drawing and not actual people.

• Malaysia
1 Sep 17
@Chellezhere
actually, I have seen and met some people like that, frenemies. It's scary. I tend to be careful to all people




• India
29 Aug 17
I agree , there are lot who pretend so. We should be very careful

• Daytona Beach, Florida
28 Aug 17
If you can it's best not to dwell on such things.

• Genova, Italy
28 Aug 17
Being Italian, maybe I did not clearly understand the concept you wanted to express. However, I have always been told to be wary of people who speak behind others. In your absence, they will speak behind you! Did I understand well? If not, please forgive me. Regards Alessandro

• Garden Grove, California
7 Sep 17
that was unkind of her indeed I had one such incident here o n my lot between e and an old mylot friend 'after I really ltold her I had been so lill she responded interesting'''''say again I had to have emergency surgery an dd thats all my so called Friend said? 'I realized she was not my friend after all. ,