The ring and the cap.

Philippines
August 28, 2017 5:10pm CST
Here in our province, mushrooms are locally called "uong" and they are on its season. Mushrooms is easy to cook, mostly in local dish we call "dinengdeng", or adobo and they have a sweet taste. They have health benefits too, they are rich in vitamins and minerals and dietary fiber. But how do we know that what we eat are safe? What locals here are selling to us are safe, they have the eyes to see which one, and we were told about mushrooms that has rings are the one that are poisonous. And with google, i found out about the red on the cap or the stem are poisonous. The safe ones have a spongy pores(like the one on the photo from my previous discussion) and mostly they grow on woods. Eating poisonous ones are toxic and deadly, i am glad that locals here knew their mushrooms well. And selling us with a "good price"


. Or basic knowledge with the ring and the cap on the mushrooms.

10 responses

•
29 Aug 17
We have to ask the expert
@topffer
for more advice about this topic. He gathers his own mushrooms for years now and still manages to write very good articles here for us to read.


• Hamburg, Germany
29 Aug 17
I would be unable to pick mushrooms in the Philippines as they are certainly not the same than in France. One of the best mushrooms that can be picked in August here is the Amanita Caesarea which is orange/red. The name "Caesarea" has been given because it was a mushroom served to Roman emperors.




• Philippines
29 Aug 17
That's my problem too, I can't seem to distinguished between an edible or poisonous mushroom. I end up buying the ones in canned.

• Philippines
29 Aug 17
@Lucky15
Correct. Better be safe than sorry. Is "dinengdeng" a type of soup that has fish and a mix of vegetables?

• Philippines
29 Aug 17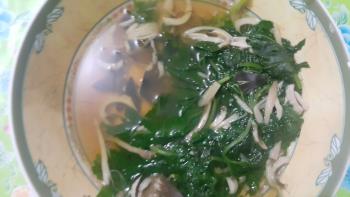 • Philippines
29 Aug 17
We call it "uhong" in our dialect so we're almost similar :)

• Philippines
29 Aug 17
@Lucky15
No. I think it's you who's eating them :)

• Philippines
29 Aug 17
@sunrisefan
i had them two days ago



• Philippines
29 Aug 17
an edible uung has no rings and th cap is soft. i like it when cooked with spinach, and the broth is already 'ulam' for me.

• Philippines
31 Aug 17
@Lucky15
i wonder how many still have the misconception that any wild mushroom is edible, even not checking the ring? that is why there are some cases of getting poisoned.

• United States
29 Aug 17
I love stuffed mushrooms.


• Canada
28 Aug 17
I don't trust myself and would be worried if I found some in the wild. I would rather play it safe and buy them in a store.

• Philippines
28 Aug 17
Last week we had mushroom for our lunch. My wife cooked it in bagguong and then add the young leaves of wild ampalaya.

• United States
28 Aug 17
I always hear bad news about this.My pop use to cut wild one and cook them.But they were good.I did not have them.The adults did.