Taquito Tuesday!!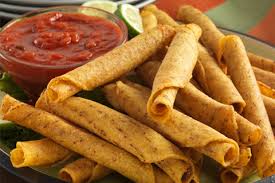 United States
August 29, 2017 1:34pm CST
Well have not stopped by here for a while been busy at Doctors appointments and a lot of other things as well. It is nice to stop by and say Hello to all. Hope you all are having a great day here!

So I cook all the time as many of you know so today I will be trying to make Taquitos for the first time! I hope they come out okay I have never made them but I have watched several vidoes on You Tube to learn how. It doesn't look too hard butit does look like I will be making a big mess in my kitchen later L.O.L. So wish me luck.

4 responses

• Boise, Idaho
29 Aug 17
The more mess the better the food.


• United States
30 Aug 17
I agree l.o.l


• Waikoloa, Hawaii
30 Aug 17
i heard before taquito its food of spain or mexico?

• United States
29 Aug 17
Wishing you the best of luck with those taquitos! They do sound tasty!