That's a Lot of Water!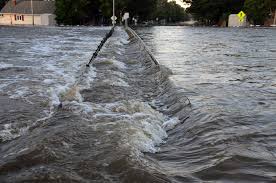 Saco, Maine
August 29, 2017 1:45pm CST
Living just a couple of miles from the Atlantic Ocean, not to mention just a few streets from a major Maine river, means that I am accustomed to seeing lots of water on a regular basis. The only difference is that it's not in the streets! While we have had some minor flooding here in past years during the spring run-off, when all the snow in the mountains melts and meets up with heavy rainfall, it is nothing compared to what's going on in Texas right now. I simply cannot imagine the street I live on being 5 feet or more under water. That would mean that the water level would be about 4 feet from my ceillings here! And at just 5'3" tall, I would not be able to stay here. From what I'm seeing on the news, all that can be done is being done. So kudos to all the rescue teams who are hard at work getting people and animals to safety. I've lived long enough to know that, as terrible as these events and disasters are, they are a hard reality of life. The truth is that we just cannot predict how things will turn out when nature takes matters into her own hands. And even the worst-case scenario is some people's minds was probably not anywhere near what is actually happening. And according to all the reports I'm hearing, it's not over yet. (Public Domain Image)
7 responses

• United States
29 Aug 17
Yes it is unimaginable to some people Rachel, I agree, even the worst of it. But yes, it is part of life especially living anywhere near rivers and coast lines. I have read a lot about a possible catastrophic flood that could happen even here in Colorado.

• Saco, Maine
29 Aug 17
It, or any other natural event, could happen anywhere given the right circumstances. We just can never take anything for granted in this world.

• United States
29 Aug 17
@Raelove
You are so very true my friend. Blessings to you.



• Saco, Maine
29 Aug 17
Yes, it is. I am trying to imagine if that were me needing to be carried off by boat somewhere...


• Saco, Maine
10 Sep 17
I've experienced a few hurricanes that made it as far as Maine. But nothing like that, not even close.

• Boise, Idaho
29 Aug 17
That is rather scary. I hope it is over soon for them so they can start the recovery process.

• Saco, Maine
29 Aug 17
I can't get my head around it...I hope so, too.

• Boise, Idaho
30 Aug 17
@Raelove
.......Do you believe, as some do, that this is the beginning of the end?

• United States
29 Aug 17
I was disheartened when I heard that more is coming their way. We really do need to always expect that the weather may result in a disaster with which we will have to deal..

• Saco, Maine
29 Aug 17
Yes, more rain coming as the storm is circling around. Hard to imagine getting any worse than this.

• United States
30 Aug 17
@Raelove
I am praying it does not, my friend.

• Philippines
12 Oct 17
It's terrible when the warer is over flooding the place where it is populated. Calamities may come unexpectedly. That's why disaster preparedness risk reduction should be created and have to be funded to function so as to save lives, not so much with properties.

• Saco, Maine
12 Oct 17
Not much you can do about properties in such cases. But being ready to move out quickly if need be is crucial.


• Saco, Maine
29 Aug 17
I agree...I'll be they won't want to see water anytime soon after this!