Chicken Fried Steak using Ground Pork is very good.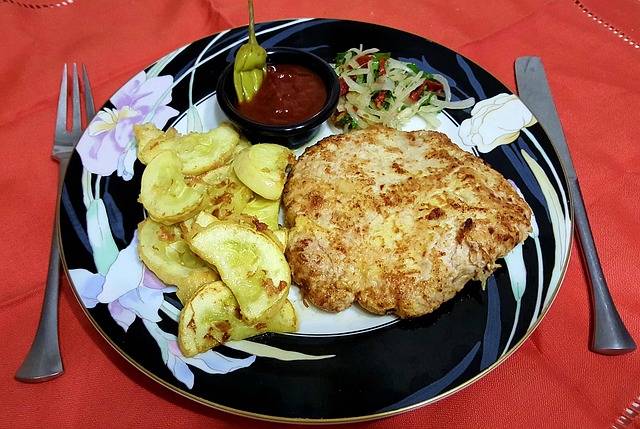 Dallas, Texas
August 30, 2017 10:32am CST
If you are like me, burned out on ground cow meat and want something different to try, you may like a chicken fried steak using ground pork instead of ground beef. The trick is to make it using proper seasoning and breading and taking time to properly cook it in a frying pan. Here is a link to Chicken fried Steak using Pork from a YouTube:

Description This chicken fried chuck pork steak, is real easy to make.
5 responses

• United States
30 Aug 17
Chicken fried steak is one of the finest things on the planet. I have not had any for years and sadly I may not ever again. I am no longer eating meat only fish.

• Dallas, Texas
30 Aug 17

Recipe for Crispy Fish Tacos with Coleslaw For the batter: 1 cup self rising flour 1 teaspoon baking powder 1/2 teaspoon salt 1/4 teaspoon ground cumin 1 1/4...

• United States
30 Aug 17
@lookatdesktop
Yes looks really tasty Anthony thanks



• Dallas, Texas
30 Aug 17
Country Fried Steak (Wiener Schnitzel) with Michael's Home Cooking

How to make Wiener Schnitzel or a Country Fried Steak with pork. Ingredients: 1 or 2 pounds round steak/cube steak/pork cutlets 1/2 cup flour 1/4 teaspoon sa...

• United States
30 Aug 17
@lookatdesktop
Pork cutlets! hahaha

Of course I know what pork cutlets are.

I haven't seen them in the store in a long time. Hmm, maybe I just haven't been looking. Anyway, that's another great recipe! Honestly, while I was watching it I'd swear I could smell it cooking.

Thanks! I think I'll be buying a lot of pork cutlets this weekend.


• Dallas, Texas
30 Aug 17
@deazil
, I hope you find it and can cook it up and really enjoy eating it. Good for you and low in cholesterol and just plain good eating.


• Dallas, Texas
30 Aug 17
Go for it. Enjoy some yourself and let me know how things turned out.



• Canada
30 Aug 17
I have never tried chicken fried steak before but every picture I see looks so good. I must give it a try sometime.

• Dallas, Texas
30 Aug 17
If you like beef you would enjoy this recipe for Beef fried the same way:

Chef Laura Vitale teaches us how to make her delicious and healthy country fried steak with mashed potatoes in this Recipe Rehab how-to. Watch the chefs ligh...

• Daytona Beach, Florida
30 Aug 17
Now that sounds like a very good idea.