Frozen blueberries in morning muffin mix is a good thing.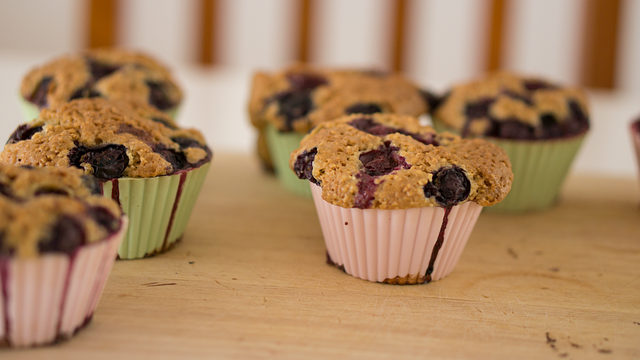 Dallas, Texas
August 30, 2017 10:42am CST
I had a bag of frozen blueberries and nothing to do with them until my wife came up with the idea of taking cake mix and adding a cup of frozen blueberries to the mix and we both had 3 hot blueberry muffins that you could just about inhale. This is what I find the best use for blueberries that come frozen. Here is a nice blueberry muffin recipe for you to look at:

To get this complete recipe with instructions and measurements, check out my website: http://www.LauraintheKitchen.com Official Facebook Page: http://www.fac...
8 responses

• United States
30 Aug 17
I love anything with blueberries and muffins are so nice. Havent made some in a while tho I bake bread every other day. Will check out this recipe thanks Anthony.

• Dallas, Texas
30 Aug 17
I hope you like it. I have many of Laura Vitale's YouTube recipes. She is very talented.

• United States
30 Aug 17
@lookatdesktop
I do like it and a girl after my own heart..Italian I see. Those muffins look amazing Anthony!

• Canada
30 Aug 17
They look really good and a great way to use up frozen blueberries.

• Dallas, Texas
30 Aug 17
I was very happy with the way they tasted. So much so I will ask my wife to please please make more.


• Canada
31 Aug 17

• United States
30 Aug 17
Those muffins really do sound good!!!

• Dallas, Texas
30 Aug 17
I am going to ask my wife to try making more tomorrow morning. These were the best I ever ate. Yum Yum!



• Paso Robles, California
2 Sep 17
Used to love muffins like this, but can't eat them anymore. I now eat my blueberries fresh in cereal and with ice cream.

• Dallas, Texas
2 Sep 17
It is good nutrition in any case. I have eaten fresh blueberries right out of the plastic pint sized container from an ALDI store. No added sugar. I just ate them all one by one . Pretty good snacking I must admit.

• Daytona Beach, Florida
30 Aug 17
Thanks for sharing. Sounds really good.

• Dallas, Texas
2 Sep 17
And when real creamy butter is added, it's heaven.

• Melbourne, Florida
30 Aug 17
Oh that sounds yummy, love blueberries. In fact, I was wanting to make a blueberry dump cake a few weeks ago.

• Dallas, Texas
2 Sep 17
I am going to have my wife make more today. I can hardly wait.

• Pamplona, Spain
14 May
Those look very very nice too and I will have a look when I can as this pesky internet keeps going off again so I am offline again. I have bookmarked the video so I can get back to it to see it.