What should be the qualities of a good friend?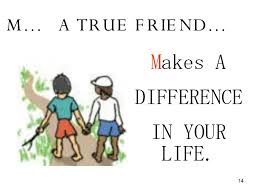 Canada
August 30, 2017 1:14pm CST
Most of them, we make friends because of similar qualities between us and our friends. Our different friends have different qualities but some of the qualities are common among our friends. What are the qualities you prefer and want to see in your friends?
5 responses

• Hong Kong
30 Aug 17
@studylove
Most of my friend are understanding, loyal and dependable my friend. They say that our friends are sometimes a reflection of our selves my friend.


• Canada
31 Aug 17
Ok that is good that your friends possess these good qualities. What is the age of your most of the friends?

• Hong Kong
1 Sep 17
@studylove
Younger, same age and older than me my friend.


• Canada
6 Sep 17
@mandala100
so it means that you have a variety of friends.



• Canada
31 Aug 17
You have pointed out the very good qualities of a friend. How many friends do you have dear?

• Atlanta, Georgia
1 Sep 17
@studylove
I don't socialize much so I don't have many friends, I've made a lot of changes and moves in my life and many friends have been left behind. But I have oodles of family to make up for it.

• Canada
6 Sep 17


• Malaysia
4 Sep 17
A friend is someone who care about you during easy and the important is, during hard times. Doesn't matter the age to become friends. For me, that is someone we can truly be call them as friends. I think that is the both definition and qualities for friends. Those who likes to call them friend or bud or my friend over internet although never met before, that's a red flag. I don't believe we can be friends through just chatting once or two. We need to be careful nowadays, as cyber bully or criminal are there also. Stay safe!

• Malaysia
6 Sep 17
@studylove
even some who type or called us with my friend, bud, fella, excessively, I felt weird.



• Philippines
6 Sep 17
I`m not sure about qualities when choosing friends because for me as long as that person can accept me as being myself..I guess, we can get along fine..I always think that I`m not perfect and I don`t want to change myself as long as I know I`m not doing anything wrong



• Canada
7 Sep 17
Yes we can't have too many good qualities friends. We all human beings are not perfect. But there may be some qualities that you would like that your fried may have like sincerity and love. Do you agree ?

• Philippines
7 Sep 17
@studylove
..Well..You have a point there! I guess, I`m not the friendly type of a person. I mingle with circle of friends who wants me to be there but choosing qualities is out of my mind because I respect their decision and whatever makes them happy

like no controlling and jealousy


• Canada
7 Sep 17
@m_audrey6788
Ok dear. I have a lot of friends worldwide and love to connect with them. I hope you must have a best friend with whom you would be able to share each and everything.Am i right?


•
19 Nov
I would like a friend that is nice and kind and accepts me for me and does not judge me and supports me and is loyal and there for me when good and bad times.