how many have eaten SARDAR'S PAV BHAJI.........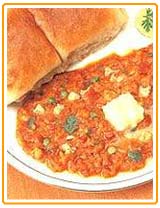 India
November 27, 2006 3:36am CST
hey friends.... have u ever eaten pav bhaji...... if yes then of sardars @ tardeo?????
4 responses

• India
11 Dec 06
yup!!!!!!!!! Being a Mumbaite and a foodie (pav bhaji being a favourite) I certainly have visited Sardars
@
Tardeo. But sadly speaking the quality and quantity is not the same as before. Its become the normal run-of-the-mill variety and no longer epitomizes what it stood for. No wonder I prefer to sate my palate else where rather than there.

• India
23 Dec 06
yup its jus plain amazing

• India
2 Nov 07
hi darshakk, i have heard of the sardars pav bhaji but never had it as i dont know exactly where it is.Drop in the addrss if you aware will go an chk it.... Pav bhaji is the famous in india but no wheer you will get pav bhaji as like in mumbai....and especially of the stalls and shiv sagar.

• India
6 Feb 07
Yes, I do.This place at Tardeo Circleserves the yummiest Pav Bhaji till late nights. The Pav Bhaji you get here is loaded with butter. So weight watchers stay away as you can't enjoy the Pav Bhaji without butter. It is very cheap at about 40 rupees. Other variants of Pav Bhaji are Cheese Pav Bhaji, Masala Pav Bhaji, Masala Cheese Pav Bhaji, and Kada Pav Bhaji. The seating is bad so make sure you have your car and go there after mid night. An average meal for two can set you back by just 150 rupees