Gratitude Challenge Day #912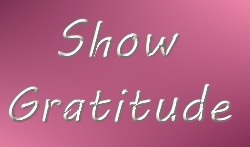 United States
September 1, 2017 2:15am CST
I know it's late, but I wanna do the Gratitude Challenge for Thursday, August 31st, anyway….. 1. I got in a little writing today. 2. My Mom bought me a 12-pack of Dr. Pepper (in a can). 3. I bought vanilla caramel coffee creamer yesterday and it's sooo good. 4. I complimented Danny Wood (NKOTB) on his solo music via Twitter DM, and he responded back to thank me. I needed that smile at the time. :) 5. Last but certainly not least, having people who care about me and don't want to see me upset. And I feel the same way about them. :) I'm gonna TRY to go through my notifications and do some interacting this weekend. We'll see what happens. In the meantime, I'm going to bed. You all have a good night/morning and take care. Photo Credit: I made this graphic using PhotoImpact 6.
3 responses

• Nairobi, Kenya
1 Sep 17
It is so nice to always be grateful for all the blessings in our life. :) I am also grateful for all MyLot members I have interact with since I joined. :)

• United States
1 Sep 17
Hope I'm included in number 5!

• Philippines
1 Sep 17
That`s a good start! I think you`ll be fine..Ok..Good night and wish you a great day tomorrow!



• Philippines
4 Sep 17
@tammys85
..Welcome



Wish you all the best



• United States
4 Sep 17
@m_audrey6788
Aw thanks, wish you all the best too!