What's Your Favorite Movie/TV Catchphrases?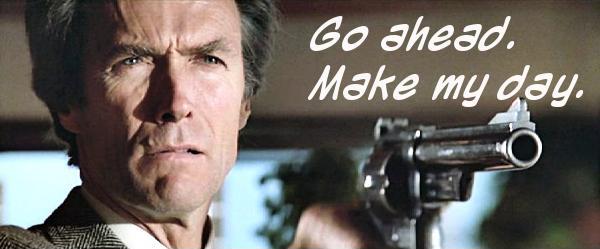 Hong Kong
September 1, 2017 3:05pm CST
Many myLotters love to watch film or movies or TV series for even in the Age of the Internet the glitters of film/movie and TV series never fades away. Movies and TV series remains one of the best form of our entertainment and relaxation. There are so many lines, quotes, or catchphrases that lingers in our memory and which sometimes become part of our vocabulary or conversation. What is your favorite or memorable movie /TV lines, quotes or catchphrases? Picture credit: picturequotes.com
8 responses

• United States
1 Sep 17
"Badges? We don't need no stinkin' badges!" Blazing Saddles, 1974.

• Hong Kong
1 Sep 17
@Corbin5
Wow! That's great my friend.



• United States
1 Sep 17
@marlina
For some strange reason, that was my husband's favorite line. I think he loved that line because we moved into a Chicago suburb filled with wonderful Italian folks, along with a few mob members. When many learned my husband worked for the United States government, they worried he worked for the IRS and asked if he carried a badge. My husband assured all that he worked for the US Department of Labor.

Skip navigation Sign inSearch Loading... Close Yeah, keep it Undo Close Watch QueueQueueWatch QueueQueue The next video is startingstop Loading... Watch Queue Queue __count__/__total__ Loading... Find out whyClose 01Minimalist Loading... Unsubscribe from


• Roseburg, Oregon
1 Sep 17
Go for it but I do not know what show I hear that on.

• Hong Kong
1 Sep 17
It's from here my friend as Wiki says: "Go ahead, make my day" is a catchphrase written by Charles B. Pierce and spoken by the character Harry Callahan from the 1983 film Sudden Impact."

• United States
2 Sep 17
Pity the fool as Baracus used to say.


• Hong Kong
2 Sep 17
@DianneN
Yes my friend I know that comedy on TV is that right?

• Holiday, Florida
1 Sep 17
thats a tough one. so many in my long years i remember. All about eve, Bette davis saying, buckle up! it's gonna be a bumpy night. and Jack Nicholson in As good as it gets, saying to the woman, "you make me want to be a better man". actually i don't think i use any of them in my conversations though. lol

• Hong Kong
2 Sep 17
@bunnybon7
Thank you for sharing your thoughts and catchphrases my friend.


• Preston, England
1 Sep 17
I dislike catchphrases and repeat expressions

• Hong Kong
1 Sep 17
@arthurchappell
That's no problem my friend.


• Agate, Colorado
1 Sep 17
One of the catchphrases that I know a lot from How I Met Your Mother is when Barney would always go "okay just...okay" and i find myself doing that a lot. One of the most memorable quotes from a show I love is from Supernatural "Family don't end in blood, but it doesn't start there either"

• Hong Kong
1 Sep 17
@
skydream That's so cool my friend.



• United States
1 Sep 17
I like the line in the film Predator..¨What the *bleep* are you?¨


• Hong Kong
2 Sep 17
@TiarasOceanView
What is a "bleep" my friend?



• United States
2 Sep 17
@mandala100
Its a curse word

So we are ´bleeping sound´ haha


• Hong Kong
3 Sep 17
@TiarasOceanView
I get it now my friend.