World's Toughest Job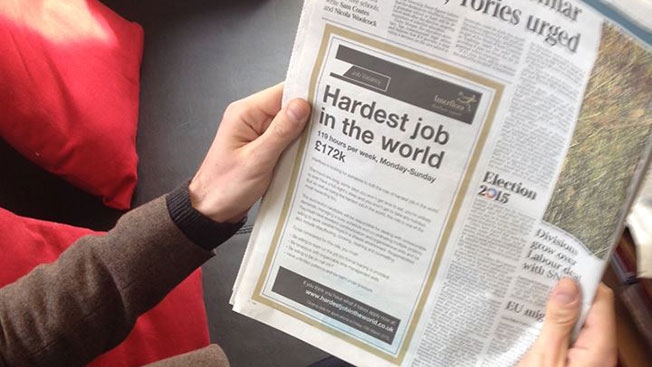 September 2, 2017 4:30pm CST
What do you think is the most difficult job in the world? As for me, I believe it's being a president of a country. If what you truly desire is the best for your people, I bet it could be really taxing. The life and future of millions of your countrymen on your shoulders is no joke at all.
8 responses

• Hong Kong
2 Sep
@JeeyanDee
As for me either being an astronaut and deep sea diver. I hope you are having a good day Jeeyan.



•
2 Sep
What makes you think that? I think I am and I hope this good day will continue.

• Hong Kong
3 Sep
@JeeyanDee
Both are dangerous job Jeeyan only few become astronaut and deep sea diver in the world.



• United States
2 Sep
I think so too. Every move a president makes will please some but not others. Seems no matter what a president does, there will be those who criticize his every move.


• United States
3 Sep

• Waikoloa, Hawaii
3 Sep
for me military,police fireman cause thier life is in danger how about you?

•
3 Sep
Yes, I see your point. They do put their lives on the line every single day to save others. They are real heroes.

•
3 Sep
be a guardian to some teenagers! (they are a pain!)

•
3 Sep
Hahaha. I totally agree with you. I myself was a real pain back in the day.

• Philippines
3 Sep
That is one job I never ever wish to have.

•
3 Sep
I agree. I would never want this for me too, but it certainly has its perks.


•
3 Sep
Yes, putting their lives on the line for others is really a dangerous job, but a very honorable one. I salute people who choose these as their careers.

• United States
2 Sep
The job of cleaning up body waste would be it for me. Cleaning up vomit, blood, body waste, soiled diapers you name it I would not do it. o house keeping would be a good title for that.

•
3 Sep
Hahaha. Unfortunately, that is a part of other people's daily life. What's worse than what you've mentioned is having to use them for tests and studying them, like what a medical technologist's job is. I mean having to scoop some of that then place it under a microscope, is certainly not a job for me.

•
3 Sep
Yes, having it in your hands to save a person's life could be a really tough job. The worst part of this is having to deal with the family if something went wrong during the operation.