Indian journalist shot dead in Bangalore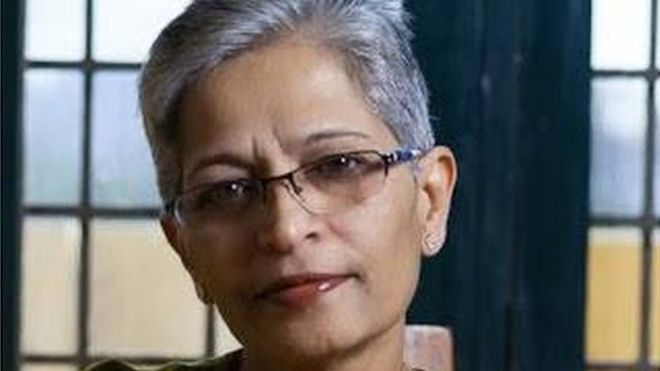 Austin, Texas
September 6, 2017 1:36pm CST
I believe in freedom of speech and I especially believe in journalistic freedom. I was already upset because Al Jazeera journalists were being silenced. Now I hear this report about Gauri Lankesh and I am spitting fire!!! Were this woman not shot dead IN HER HOME I may have never even heard of her. I don't even know what she said and what she did but I BELIEVE SHE SPOKE TO TRUTH! If the bullets were supposed to silence her voice they have had the opposite effect. Claim that she defamed the character of certain politicians. So? She had to be killed for that? Am I supposed to believe that innocent people engaged in politics who have a blameless character and are without fault, who are honorable and have integrity ALLOW PEOPLE TO BE KILLED … for any reason??!! Be it character defamation or whatever! It is my understanding that none of the murderers of the journalists who were brutally have ever been brought to justice in India. So? Is this is what democracy and freedom of speech looks like?

Gauri Lankesh, a critic of Hindu nationalist politics, was found in a pool of blood outside her home.
9 responses

•
8 Sep
We need
@vandana7
here to explain to us a bit more of this. That poor journalist!


•
8 Sep
@vandana7
Thanks for your input, appreciate that.


• India
9 Sep
@cmoneyspinner
.. You understood the situation perfectly. :) I believe that man having been proved innocent would not have gone about killing the lady unless he realized she had some new evidence that could convict him. Education here is primarily for getting jobs. People have little time for everything, and everybody is knee deep into religious rituals, which they feel defines them. No, my responses were long too. I am hoping with the new technologies, we will be able to change the way we function. Democracy would mean, everybody would vote for whatever they believe will benefit them. There would be sites wherein bills would be posted. There would be sites where for reasons would be given, and there would be sites where reasons people stand against a thing would be posted. People can read and take a rational call. Anybody wanting any new bill would put it up on another site. Over a period, it would need support of 10 percent of population for coming up for discussion. Once it does, it can be debated in the above fashion with no politician boring us.

• Austin, Texas
9 Sep
@vandana7
- Sounds like a plan for the future of a nation. Let's hope for all nations everywhere to have a government where justice prevails and people can simply live their daily lives. That's all most us want. All dreams begin with a hope for the better. Thanks for talking with me.


• India
6 Sep
Thanks for coming up with this discussion.She has always criticized the wrong policies of Our Indian prime minister Modi and his party.That she leaned towards the left wing does not make her wrong.I am not sure the real culprits will be arrested.

• Austin, Texas
6 Sep
@pitstop
- 7 bullets were fired. A random arrest? You mean on top of the injustice she has suffered some poor random soul who likely had nothing to do with the incident will also have to suffer??


• French Polynesia
7 Sep
In some countries you have to be very careful what you say. I don't agree with shooting her and killing her. I think there is a better way to handle this.

• Austin, Texas
7 Sep
I know in some countries one must be careful what they say. But this isn't North Korea. It's India! India boasts that they're a democracy!
In democracies you don't KILL journalists!
This is not an isolated incident. This woman is in line with other journalists who left this world ahead of her. I'm just saying, if you're not going to be a democracy, don't say you're a democracy! I would say the same thing if it happened in the USA. If this woman spoke or wrote lies her acts should have been exposed to shame her. Instead people went to her home and shot her! Now everybody is inclined to believe that she must have spoken the truth. Truth suppression is not good. But especially not in a country that says they're a democracy. (P.S. Not yelling at you.

I'm just passionate about freedom of the press.

I heard this report and decided to use "my voice" in place of the voice of this woman, since she can't say anything any more.)

From Wikipedia, the free encyclopedia Jump to: navigation, search World Press Freedom Index 2017.[1]   Good situation   Satisfactory situation   Noticeable problems   Difficult situation   Very serious problems The Press Freedom Index is an annual ranking

• Cochin, India
7 Sep
Its a shocking news I heard from TV. She is a senior journalist and take bold decision and writings about aggressive , terrorist politicians. Though there is many disputes from many political sides, the reason and murderer yet not revealed.

• United States
7 Sep
That is such a shame. They need to be caught and brought to justice. All of them.

• United States
6 Sep
Crooked and evil isn´t it Moneyspinner? The poor lovely lady RIP

• Hong Kong
6 Sep
@cmoneyspinner
I'm really so sorry to hear this my friend. This is a big shame and I hope that justice will be done in her case and those behind this will eventually get arrested, charged, tried and convicted.