Are you want to be a part of crowd or you wanna make something different?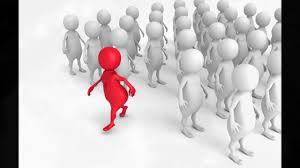 September 10, 2017 10:11pm CST
guys I know we all have our dreams ,thoughts ,and our own ways.but many of us don't get their own way.why? Due to what other say.peoples always resist the thing which they can do.they tell their ways. Many of us discouraged and they become a part of crowd.but some of us choose another way.they don't give up and at last they make their own recognition. How about you guys?which way you are going to choose? Picture is from google.
6 responses

•
11 Sep
I agree with your point. I have my dreams and I'm not going to adjust with what I got. I make my own ways instead of walking on beaten path.

• Nairobi, Kenya
14 Sep
I also want and like to be different :)


•
11 Sep
I used to choose being just a part of the crowd because of fear of failing, but not anymore.

•
12 Sep
@Athinker
Oh I have! I was able to deal with all those negativity and insecurities I had.


• Roseburg, Oregon
11 Sep
I do my own thing and never follow the crowd.

•
11 Sep
Definitely make something different.

•
24 Sep
Being accepted as part of the crowd is hard to resist. People want to be included, and joining groups that have similar interests is one facet of acceptance. Then there are those who follow the "beat of their own drummer." They do their own thing and do not care what others think. I believe it can go both ways and does. I have done both in my life.

• India
11 Sep
Sometimes different and sometimes with the group , it depends on the situation