Who Is A Toxic Person?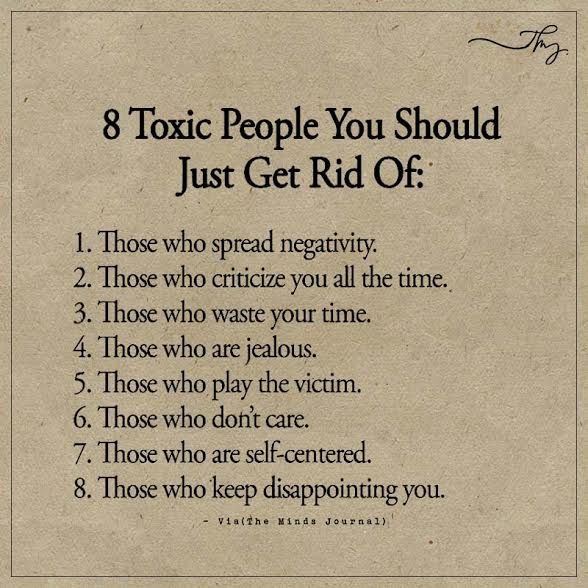 Hong Kong
September 12, 2017 5:02am CST
It's always wise not to surround ourselves with toxic people. According to psychcentral.com, a toxic person is one who "is deeply wounded and for whatever reason, they are not yet able to take responsibility for their wounding, their feelings, their needs and their subsequent problems in life." It also observed that, "It's not that the whole person is toxic. Rather, their behavior is toxic or your relationship with the person is toxic." Are you a toxic person? Do you know of any toxic people? How do you handle a toxic person? Can you add anything on the list of toxic people? Picture credit: nz.pinterest.com
10 responses

• Germany
12 Sep
I don`t know much about it..Maybe I`m a toxic person too due to my bad experiences in life


• Hong Kong
12 Sep
@m_audrey6788
I don't think that you are my friend.



• Germany
12 Sep
@mandala100
..


Thank you my friend


• Hong Kong
12 Sep
@m_audrey6788
You are always welcome my friend and each of us has his or her share of bad experience in life my friend.

I'll see you later my friend.


• Philippines
12 Sep
Its good you shared this buddy and I think I need to avoid some peers

• Hong Kong
12 Sep
@ilocosboy
Yes we really need to avoid those who are included on the lists my friend for the sake of our well-being and mental health.



• India
12 Sep
I am not a toxic person, met a lot of such people

• Hong Kong
13 Sep
@prashu228
Yes my friend there are lots of toxic people out there.


• Green Bay, Wisconsin
12 Sep
I do my best to stay away from toxic people as described in your image above. When I do encounter them in a chance meeting, I do my best to instill some positivity in them.

• Nairobi, Kenya
12 Sep
I have ever come across toxic people and I have also been toxic at some point in my life. It really makes someone a bad person. But it can be solved if someone is willing to do so.



• Banks, Oregon
12 Sep
I have very little to do with them and, pray they will get better.

• Winston Salem, North Carolina
12 Sep
I'm non toxic, myself, but I would still suggest that chewing on me probably isn't a good idea.

• Philippines
12 Sep
I don't think I could add anything to that list but from the time I read the book The 48 Laws of Power, I've been staying away from those people on your list.