Human Equality: A Reality Or A Mere Ilusion?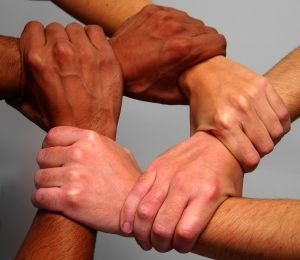 Hong Kong
September 13, 2017 1:49am CST
We are familiar with the phrase "All men are created equal", "Equality before the law", and "Liberty, Equality, Fraternity" all of which advanced the idea or notion of Human Equality. In theory such thought or concept is good and very laudable but in actual practice equality seems to remain to be a very illusive dream. Is Human Equality really possible in this world? Do you believe in Human Equality? Is the idea of Human Equality an empty and useless concept? Picture credit: truth-seeker.info
7 responses

• Philippines
13 Sep
Well...For me, "All men are not created equal" because as you can see we all think differently even our Physical outlook.


• Philippines
13 Sep
I do believe in human equality, however, that is not possible due to many reasons and we all know those reasons. We all have the same blood color that is enough proof that we are all equal irregardless of our skin color, race and differences. But , differences (mind setting , pride etc) gives a concrete wall in human equality.

• Hong Kong
13 Sep
@jaiho2009
Thank you for you interesting thoughts and views my friend.



• Philippines
13 Sep
@mandala100
you're most welcome my friend and have a great day


• Green Bay, Wisconsin
13 Sep
Human equality is a nice thought and idea. People work towards that, and have laws in place bringing equality to the workplace and human relations, yet it is also a concept that though a good one, will never completely see reality because people are selfish and don't see equality as being for everyone, when they think they are better than everyone else. It is hard to see equality when different ethnic groups are standing against each other. It is hard to see equality with so much hate in the world.

• Hong Kong
13 Sep
@just4him
Thank you for your wonderful thoughts and insight my friend. Yes, selfishness maye be one factor that's preventing human equality for being realized my friend.


• Philippines
13 Sep
Well, we got women, gays, lesbians and even transgenders working in our society. I don't see why there isn't.

• Hong Kong
13 Sep
@Letranknight2015
That's right my friend the tendency and aspiration is to have human equality.



• Banks, Oregon
13 Sep
Yes, I very much believe everyone is created equal, but some are unfortunately just not good people.

• Hong Kong
13 Sep
@TRBRocks
That's right my friend there are always the good and bad.



• United States
13 Sep
Maybe it's the wording -- no one is equal to each other , in the sense that we are all unique, all different. That said - people deserve certain type of treatment no matter what their situation is - to be treated fairly, politely, equal opportunities when and where possible, etc...

• Hong Kong
13 Sep
@FayeHazel
That mybe true my friend and thanks for your views on the subject.



• United States
13 Sep

• Switzerland
13 Sep
No it's not and it's not even true that all men are created equal, because those who are born in rich countries from wealthy families have so many more opportunities of someone who was born in a poor country from a poor family. Disparity starts at the right moment you com to life.

• Hong Kong
13 Sep
@LadyLuck
Yes my friend there could be no perfect equality in the world.

And why do you think that there is still such concept as human equality my friend?