My Favorite Korean Dish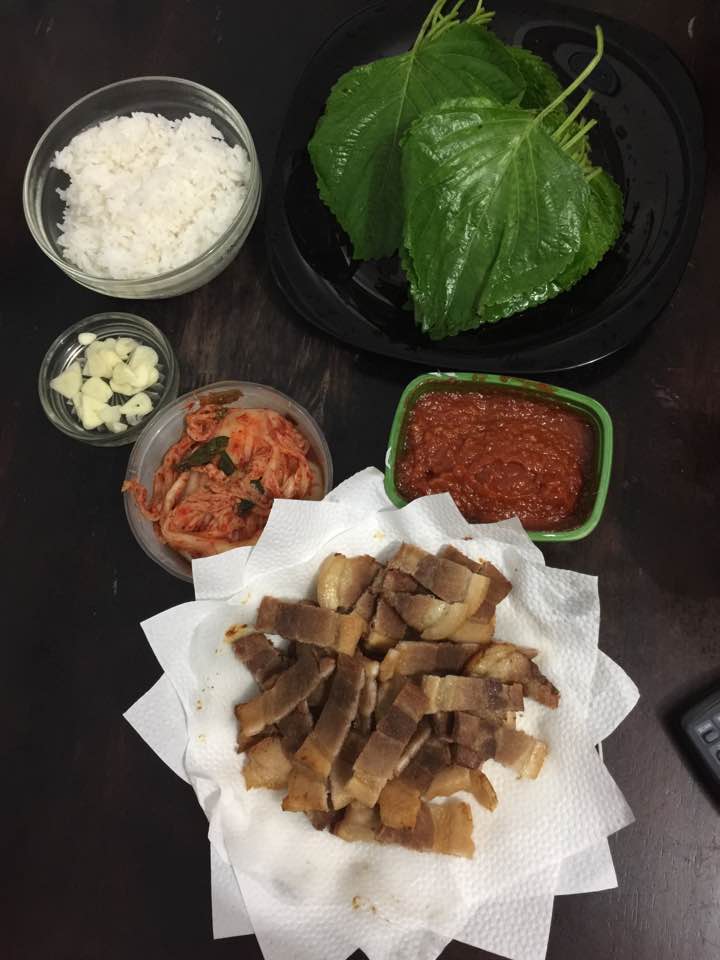 Jeddah, Saudi Arabia
September 13, 2017 5:59am CST
I used to teach in an academy where Koreans learn English as a Second Language (ESL). That opportunity gave me a privilege to have a try almost all of their cuisine. I have several of them as my favorites and I think that I can even have any every time as part of my meal. Almost all Korean food are prepared exquisitely. Give me any, you won't be really disappointed. This dish is called Samgyupsal. If you have read my other post about one of my favorite foods, the way of eating it is almost similar. Get the leaf of either a sesame leaf or lettuce over your palm. Then apply olive or sesame oil on it and spread the Samjang on thereafter. Samjang is a especially Korean made bean paste. Then, add the spoonful at most of a Korean rice. Korean rice is almost similar to a sticky rice which tastes very special to me. Next, put a clove of either raw or slightly sauteed garlic and the meat of your choice. By the way, i like the raw one way better. It springs a lot different of sensation to your palate. If you are not a Muslim, pork would be the best. I should know it because I used to Catholic. I am so sorry to say that. Finally, wrap it to look like the usual Hershey's chocolate shape and open your mouth wide to devour the whole thing wholeheartedly with a smile. Don't choke. Instead, look around while chewing then swallow. What's your favorite?
6 responses

• Nairobi, Kenya
13 Sep
I like the variety. Never tasted korean food before but it looks tasty by just looking at the photo

• Jeddah, Saudi Arabia
13 Sep

• Nairobi, Kenya
13 Sep
@Kahl39
will you have it shipped to my country?

• Jeddah, Saudi Arabia
13 Sep


• United States
14 Sep
So you used to be Catholic, what changed your mind and encouraged your soul to leave that part of the religious organizational nonsense ?

• Jeddah, Saudi Arabia
14 Sep

• United States
14 Sep
@Kahl39
ah of course you were as I, but there was no specific reason or experience that may have swayed you ?

• Jeddah, Saudi Arabia
14 Sep
@enlightenedpsych2
Just it occurred to me a nd even choosing my name was quite a story too.


•
13 Sep
I like Korean tomato soup too much.

• Jeddah, Saudi Arabia
13 Sep
@fly802
I am not so sure if I know that dish. Do you know the Korean name for that?

•
14 Sep
@Kahl39
I don`t know the name.I`ve it at my aunt`s house who can make Korean dishes.

• Jeddah, Saudi Arabia
14 Sep
@fly802
I see. I wish I had an who could cook Korean dishes for me too.



• San Jose, California
16 Sep
That sounds delicious! I tend to go for bibimbap myself.

• Jeddah, Saudi Arabia
17 Sep
@spiderdust
Oh Bibimbap it is. I also like that. It is one of the most popular Korean dishes.

• India
13 Sep
Sounds interesting. Never had any Korean dish

• Jeddah, Saudi Arabia
13 Sep