The cold that just won't quit!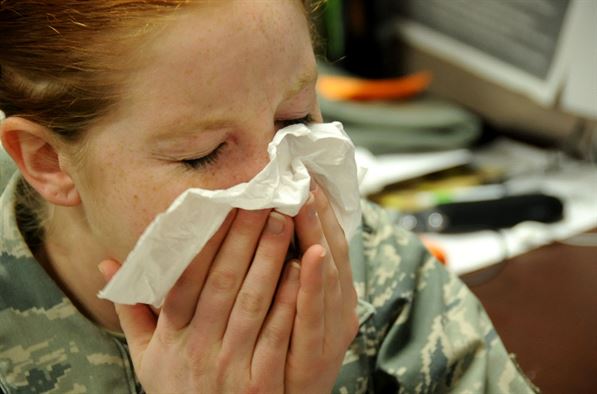 Gloucester City, New Jersey
September 14, 2017 7:46pm CST
I went to Massachusetts two Mondays ago and felt that maybe I was coming down with something by the time we got home Wednesday night. By Thursday night, I was in misery! I couldn't breathe, I couldn't sleep, my nose insisted on dripping constantly. Even stuffing it with tissue or paper towel didn't stop it from soaking through and continuing to follow gravity. I hadn't had a cold in years. I'm usually good at avoiding them, even when those in my own household are sick. Nope. This time, THEY caught it from me within 48 hours!! My daughter has been out sick yesterday and today. She's coughing so much. I don't have the kind of cough she has, but I do have to cough and break loose the crap that moved to my lungs. My nose is so sore! My voice is a deep tenor now and I have to talk loudly in order to go above a whisper. I had a doctor appointment on Monday which turned out to be fortunate because she listened to my lungs and said I had bronchitis. I'm on antibiotics now for five days. I have to admit - I feel so much better since starting them. But, they don't touch viruses, so the cold continues to linger and does it's best to drive me crazy. My poor nose is raw. I'm tired of my sinuses working overtime. My eyes haven't stopped watering, either. Maybe I should say EYE because the cold moved from my left side the first day to my whole head the other days to the right side yesterday and that's where it remains. But, overall I feel much better than I did when it all began. I did get a flu shot, though. I'm miserable with this crap. I sure don't want that!!
7 responses

• Jacksonville, Florida
15 Sep 17
I'm sorry I hope you feel better really soon. =(

• Philippines
15 Sep 17
Oh, that's sad. I hope for your full recovery soonest.

• United States
15 Sep 17
I had one last year that hung around for almost a full month, about drove me crazy. The worst was trying to sleep, I had to keep my head elevated to be able to breathe good.

• United States
15 Sep 17
Oh yeah, blame MA for being sick



• United States
15 Sep 17
@jerzgirl
well.. i meant MA - Massachusetts.. aha.

• Gloucester City, New Jersey
15 Sep 17
@Courtlynn
That may be true, too. I started feeling hints of it while we were there. Probably caught it up there, but I got blamed for "sharing". LOL


• India
15 Sep 17
I am so sorry. Milk with black pepper really works

• India
15 Sep 17
@jerzgirl
it's common here, just boil black pepper powder in Glass of milk and have it warm. You will get relief overnight. You can sweetner for taste .

• Waikoloa, Hawaii
15 Sep 17
when i get cold flu i drink lemon juice and herbal tea

• Dallas, Texas
15 Sep 17
Hope you get over the cold ASAP. We haven't gotten our flu shots yet but plan to before October is over with.

• Gloucester City, New Jersey
15 Sep 17
The doctor asked me if I'd ever had a pneumonia shot, but I don't know if it was part of the flu shot or if she didn't give it to me, but I will be asking for one when I go back in December. Probably ought to update all my vaccines plus get the mumps shot since I've never had that and sure as heck don't want it!