Bitcoin vs tulip

Hamburg, Germany
September 15, 2017 2:26am CST
I guess that I will not make friends by promoting this video link put online by the Financial Times yesterday explaining simply the words used by JPMorgan CEO Jamie Dimon who qualified on Tuesday Bitcoin of a fraud «worse than tulip bulbs». Bitcoin is a purely speculative value, worth what people want to put in it. At the news that the Bitcoin would be soon official in Japan («official» meaning in this case «strongly regulated» in order to tax it. It happened on April 1st, for Fool's Day : Japanese humor ?) at the beginning of this year the Bitcoin started to climb, climb, climb... At the news that China will soon forbid the exchange of Bitcoin, the Bitcoin is going down, down, down... Due to the importance of the Chinese market, if it was a normal good, it should fall well under its price at the beginning of this year, but there is nothing logical when it comes to cryptocurrencies. Is Bitcoin a fraud ? I do not agree with the end of the video presenting the Bitcoin like a Ponzi scheme. It is not, and the blockchain that it uses will certainly play a role soon or later to accelerate online regular transactions. The only similarity that I see between a HYIP Ponzi and cryptocurrencies are the investors, who are probably quite the same kind of speculators. Dimon said that he would fire any trader that transacted on Bitcoin for being stupid. Not a serious bank today would do it, it is too risky. Watch this short video and tell me what you think.

? Subscribe to FT.com here: http://bit.ly/2r8RJzM Jamie Dimon, JPMorgan chief executive, says the enthusiasm for bitcoin is worse than Dutch tulip mania in t...
8 responses

• Philippines
15 Sep 17
I attempted to join bitcoins but heard a lot of negative feedbacks from my friends

So, I stopped..Now, I keep on hearing that new management came in and whatsoever but still don`t see any possible way to get a confirmed earnings from it


• Philippines
15 Sep 17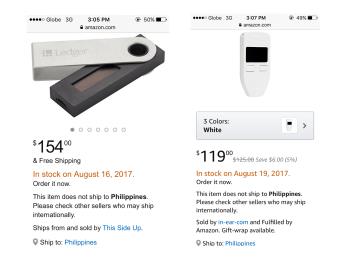 What do you mean JOIN BITCOINS? Bitcoin is a DIGITAL CURRENCY, you are saying like you attempted to join dollars

Do not join in investment sites as most of them end as scams. But look for Bitcoin Wallet providers, they are only "payment processors" just like PayPal and it is NOT recommended to keep Bitcoins there. For SAFETY keeping, we can use Trezor or Ledger Nano.

• Philippines
15 Sep 17
@topffer
..Yes! and I thought it`s like a stock market thing



•
15 Sep 17
I heard about this (from my kids, a decade or so ago), but don't know enough to comment (sounds a bit risky to me, this sort of investment!). But the middle paragraph you wrote there about the trend up and down of Bitcoin, made me laugh, for it reminded me of the song, 'A pirate went to sea', UK version, ' The pirate looked up high high high, for treasure in the sky sky sky, but when he looked up high high high, the sun shined in his eye eye eye. The pirate looked down low low low, for treasure far below low low, but when he looked down far below, a big fish scared him so so so!' Watched that clip, I thought it was funny the way they mentioned that investing in tulip, at least you have some flowers in the end. It is true in a sense.


• Hamburg, Germany
15 Sep 17
I did not knew this song, or I should have added it to this discussion, it is excellent


. The clip is good and educative, showing how the pest has been able to kill/ruin the small market around tulips. Soon or later the same will happen to these cryptocurrencies not relying on any good. One of the main problem of Bitcoin is that it relies on people mining it and not on people owning it. If people stop to mine it, the transactions will not be secure anymore. The only to decide if a software change is needed are the miners. Imagine a business where the important decisions would be taken by the workers and not by the share holders, and you have Bitcoin. It is a concept that does not work in real world, I do not think that it will work long in the virtual world.

•
15 Sep 17
@topffer
So that was it! Does it by chance have anything to do with Minecraft game? Hmm, if it was a virtual mining, then how could it have any real value? Don't laugh, but that song was for children, my kids used to sing along with the TV kid programs, some sing it as 'A sailor went to sea' (instead of the pirate), The lyrics might change a bit here and there. The following clip might sing the same, I don't know.

A Pirate Went To Sea sung by Kidzone. Subscribe to the official KidsmusicCYP channel here! http://bit.ly/YRVdzG This video is produced so that your child sin...

• Hamburg, Germany
15 Sep 17
@YrNemo
I do not know, I never played to this game. To simplify, each virtual coin is hidden in a matrix, and mining a virtual currency to find coins is made by doing math calculations with a computer. Thanks for the link to this song.


• Philippines
15 Sep 17
Yeah I just heard about it from Jeff.

Bitcoin and virtually all of the cryptocurrencies have had a very sizeable, and much needed and expected pullback this week. There have been two main focal points for the pullback. Rumors and speculation of a Chinese government attack against the free mark

• Hamburg, Germany
15 Sep 17
This article is nothing else than a personal attack, and starting by a personal attack is a cheap shot when it comes to economical analysis and depreciates any scientific content, would it be good. The video link I give is educative and does not target anybody.

• Waikoloa, Hawaii
15 Sep 17
what is diffrence between bitcoin and tulip first time i heard this tulip?

• Baguio, Philippines
15 Sep 17
If China will not honor bitcoin, because of their plan in overpowering $, then exclude them in the roster of those using Bitcoin, We are in the age of technology. We are talking of Bitcoin today after currency, and maybe after more years there will be another type of payment that will be introduced again.

• Hamburg, Germany
15 Sep 17
I agree with you. We can more globally speak of cryptocurrencies instead of Bitcoin only. The blockchain is something interesting coming from Bitcoin, but it has already evolved for some other alt-currencies, and it will perhaps be used officially for other kind of transactions tomorrow, until we replace it by something else in the future.

• China
16 Sep 17
Thank you! I can open this link however I just skim through it.You meant speculative bubble of the bitcoin would soon burst as the tulip mania in those days.

• China
15 Sep 17
I don't know much about Bitcoin,just know it is a sort of virtual currency.Sorry!I am unable to open the link above.

• Hamburg, Germany
15 Sep 17
The link to the Youtube video ? Sorry for that. It is an educative video explaining what was the "tulip mania" during the 17th C in Holland, and comparing it to the Bitcoin. I give you a link to Wikipedia, if you do not know what was the tulip mania.

From Wikipedia, the free encyclopedia Jump to: navigation, search "Tulip fever" redirects here. For the film set during the period of tulip mania, see Tulip Fever. A tulip, known as "the Viceroy" (viseroij), displayed in the 1637 Dutch catalog Verzameling