What Do You Know About Greece?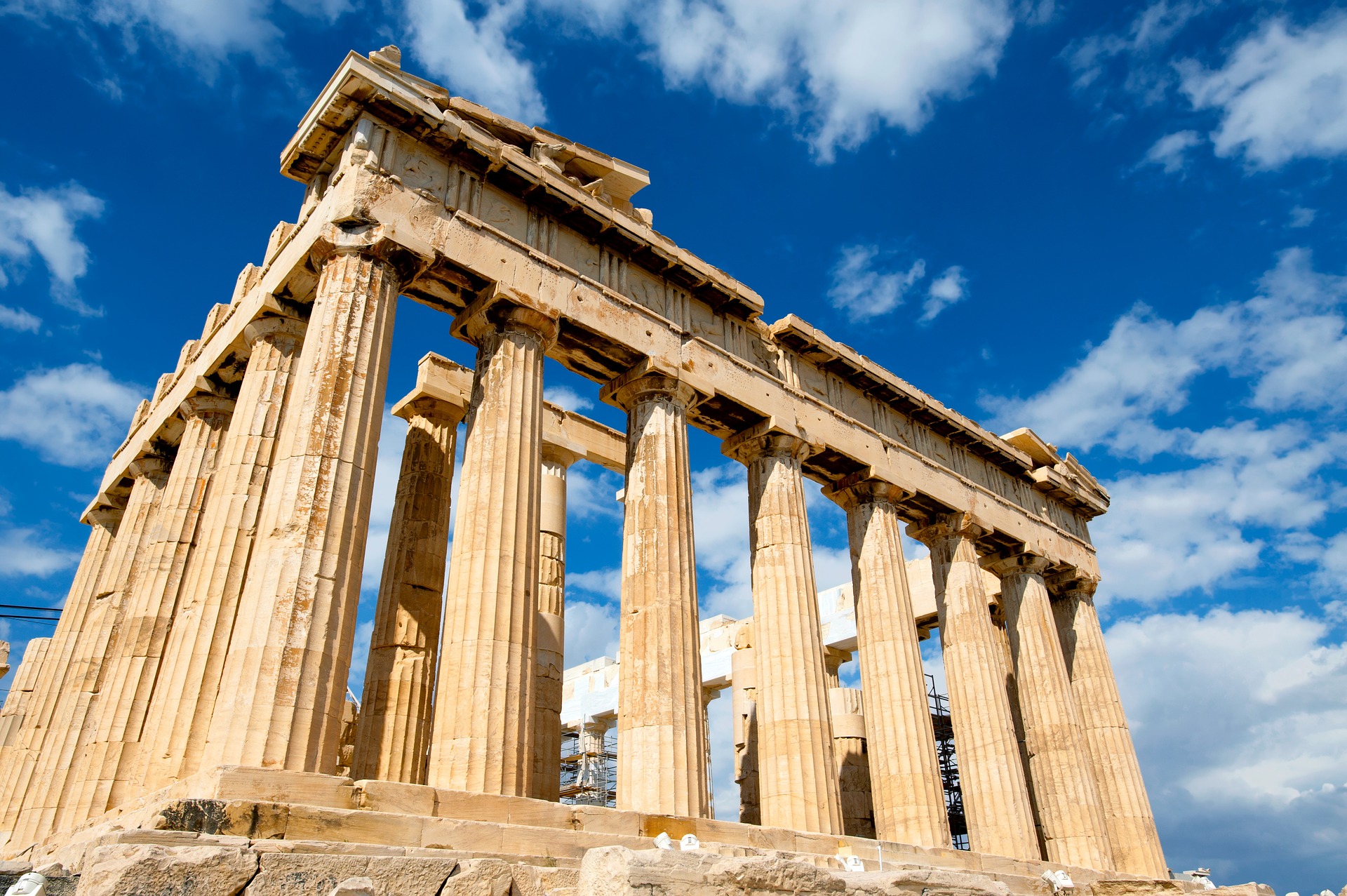 United States
September 17, 2017 6:50pm CST
Greece was certainly an ancient country, but it is now a modern country. The Parthenon was built about 2500 years ago. This temple, which was built to honor Athena, an ancient Greek goddess of wisdom, courage and crafts, is one of Greece's most famous sites. The capital city of Athens is named for Athena. The Parthenon sits on the Acropolis, a hill overlooking the city of Athens. It is made from white marble and was built somewhere between 447 and 432 B.C. It is 60 feet high and 110 feet wide and 237 feet long. Many treasures that were featured at the Parthenon, like a gold and ivory statue of Athena have been removed or destroyed over time. Greece is located on the southernmost area of the Balkan Peninsula. The Ionian Sea lies to the west and the Mediterranean Sea is to the south. The Aegean Sea is to the east. Greece is about the size of the U.S. state of Alabama and more than 10 million people live there. Greece, at one time, was one of the world's first superpowers. The Greek empire, at one time, included Egypt and parts of the Middle East and India. The roots of democracy came from Greece. Nearly 80% of Greece is mountainous, but Greece also contains more than 2,000 islands, of which about 170 are inhabited. The climate is hot and dry in the summer with mild, wet winters, with temperatures above freezing year-around for the most part. The start of Greek civilization began with the Minoans in 3000 B.C. In 1829, Greece became independent of the Ottoman Empire. (Now, the Head of State, is a president and the head of the government is a Prime Minister.) Alexander the Great, became king, after his father Phillip II died in 336 B.C. but when Alexander died in 323 B.C. the empire was divided among four of his generals. (It's very interesting to me that this division of the Greek Empire was prophesied in the Bible, at Daniel 10:3, 4.) Then, the Romans conquered Greece in 146 B.C. To be continued…
7 responses

• Roseburg, Oregon
18 Sep 17
Greece is a beautiful country to visit and even live there.

• United States
18 Sep 17
I have been to the Mediterranean Sea when I visited Spain a few years ago. That was a wonderful trip.


• Hong Kong
18 Sep 17
@IreneVincent
Thank you so much my friend for this very interesting piece of Greece History.



• United States
18 Sep 17
I'm glad you enjoyed it. I really like to learn about other countries and I'm always reading about one place or another. I think every person should spend some time learning about other cultures and what goes on in the rest of the world.

• Hong Kong
23 Sep 17
@IreneVincent
You are absolutely correct about that my friend.


• United States
23 Sep 17
@mandala100
Some people never leave their home town or make any effort to find out what's going on in the rest of the world. I am very curious about everyone and everything.



• United States
18 Sep 17
I visited the Mediterranean Sea on a trip to the coast of Spain a few years ago. That was a very nice trip.

• Guangzhou, China
19 Sep 17

•
18 Sep 17
I know just a wee part of Greek history as Alexander the Great conquered a little part of our country, India. He decided to return soon after that. One of his generals, Seleucus ruled in the north-west of India. His daughter married the first Maurya king Chandragupta Maurya and became the queen of the Magadha empire, extending over whole of northern India and modern day Pakistan.

• United States
18 Sep 17
Thank you for the additional information. That is VERY interesting.

•
18 Sep 17
wow, this is a terrific read. I used to research this 3-4 decades ago, then I got distracted with my studies, and that was that!

• United States
18 Sep 17
I really enjoy learning about other countries. Greece fascinates me.


• United States
18 Sep 17
I do want to write more about MODERN Greece, so I will post that as soon as I finish my research.

• Pamplona, Spain
18 Sep 17
I saw on a Documentary about Greece a few weeks ago and I can´t remember what part it was but there were Monasteries built into the cliffs overlooking the sea. Being many centuries old now none of the Monks lived there any more but other families did and looked after the Monasteries with the greatest of reverence and carried on its upkeep in some way or another. They had the most beautiful painting of Jesus that I have ever seen.

• United States
24 Sep 17
I'd like to see that documentary. Do you think it would be on U.S. TV somewhere? What was the name of it? Do you remember?

• Pamplona, Spain
26 Sep 17
@IreneVincent
Trouble is with that they are Documentaries that are from another Channel and they never usually state which. All I know is that its to do with one of the oldest parts of Greece and something about the Turks and all that. What most interested me was the whole string of Monasteries they have around the Coast all up and down it built like Caves right into the cliff walls. Logically they are centuries old so there has to be a Documentary about it somewhere around. It might have come from National Geographic but alas I am only guessing as the quality of the Documentary was very good and very serious and not like some of the ones they make now.