Healthy Food Swap-Outs: Oatmeal Instead of Flour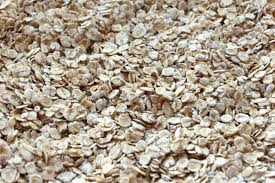 Saco, Maine
September 18, 2017 7:46am CST
A friend of mine posted a healthier recipe for homemade banana bread on another site recently which caught my attention. It was a bit too elaborate for me, as it called for egg substitute, organic honey, and a couple of other items I don't keep on hand. So I looked for, and found, a recipe that was even simpler than the one she shared, and I learned something in the process. Plain old-fashioned oatmeal, or rolled oats, can be ground into a flour and used to replace all other types. The recipe I found called for placing the oats in a blender along with mashed bananas, 2 eggs, some honey, and baking powder. I added a dash of salt for flavor. About the only thing missing that I wish I'd had was walnuts. But even without them, this is about the best banana bread I've ever had. And when I thought about it, I realized why. Unlike wheat, oats have a naturally sweeter and nuttier flavor. So it stands to reason that anything made with them would reflect that. While oat flour is not easy to find and very expensive, it is ridiculously easy to make your own with just a container of oatmeal and a blender or food processor. I'll definitely be making it again, as I love banana bread. Only the next time, I will be sure to add some walnuts, and I will cut down on the cholesterol by using just egg whites, which is really all an egg substitute is, though much less expensive. With such a simple and much healthier recipe, there is really no reason not to make it often. (Public Domain Image)
8 responses

• United States
18 Sep
Oh this sounds delicious Rachel. I may make some banana bread today.


• United States
18 Sep
@Raelove
I have no oatmeal dang it, nevermind. I will use all the various flours I have for now but I may try that one day thanks Rachel.


• Boise, Idaho
18 Sep
I enjoy banana bread too. Oat meal is so delicious with honey and a milk or cream. Making your own oat flour sounds like the ticket. Real easy. It is very filling for the winter months.

• Saco, Maine
18 Sep
Yes, and I have a small food processor that I'm thinking I'll use to grind small amounts up to keep on hand.

• Boise, Idaho
18 Sep
@Raelove
.....We used to have a Irish bakery here in town that made some delicious oat bread. I wish it was still here.

• United States
18 Sep
I will have to buy another blender (got rid of mine a while back) and try my favorite banana bread recipe with the oat flour. Thanks, Rachel!

• Saco, Maine
18 Sep
I really think you'll like it. I got rid of my food processor in one of my last moves, and I miss it a lot. I may replace it.

• United States
18 Sep
@Raelove
I just hardly ever used my blender and it was just taking up space. So of course, the moment I got rid of it, I needed it!

• Ponce De Leon, Florida
18 Sep
I'm going to have to try this banana bread


• Canada
18 Sep
The cholesterol in eggs is something I've never given a great deal of concern. No one in my family has suffered from high cholesterol. I'm always hesitant on using "substitute " anything in a recipie. I prefer to use wholesome natural ingredients. I've often used oatmeal in baking. The banana bread sounds quite delicious.

• Saco, Maine
18 Sep
This grinds the oatmeal into a fine powder, which is great. I, too, have never worried much about cholesterol. And 2 eggs in a whole recipe aren't much relatively speaking. Most so-called healthier ingredients are a lot more expensive, too. But my friend, so can afford to buy them, swears by them. I'm fine with the cheaper basics.

• United States
18 Sep
I have never used oats as flour, but what a wonderful idea that is!!! Will give this a try.

• Daytona Beach, Florida
18 Sep
That does sound delicious. Never though about making flour from oatmeal.