JJ's Vinyl Madness Countdown #788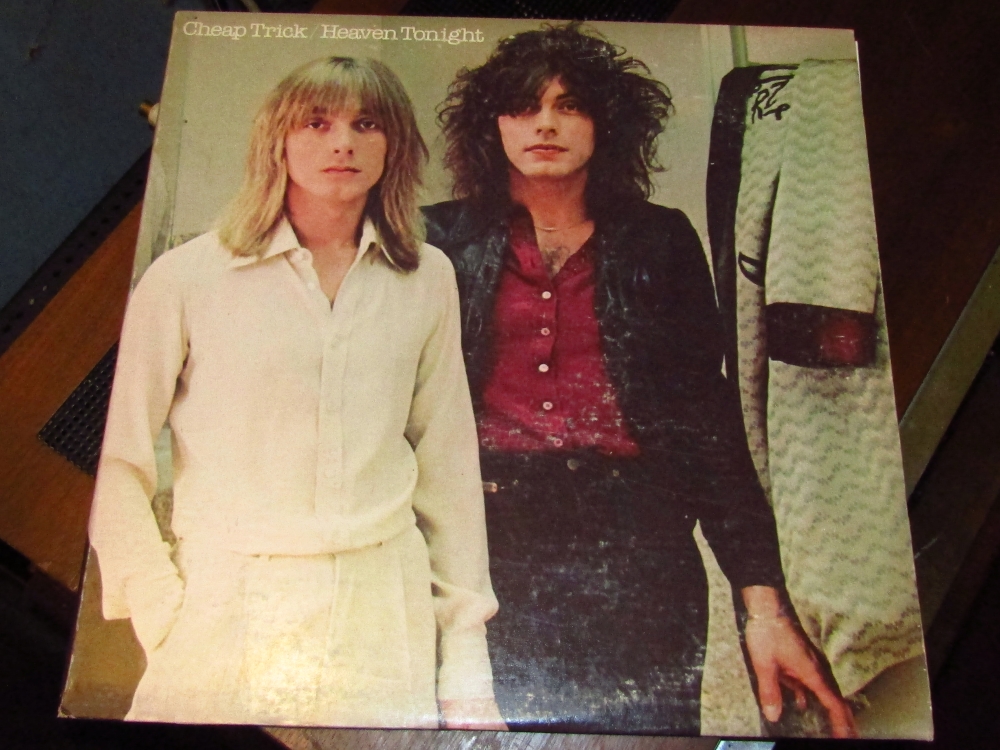 United States
September 19, 2017 3:57am CST
I've somehow wound up with three copies of this. But it will soon be down to two...a facebook friend (that I originally met here years ago) commented there on a photo that she needed to replace her copy of this because it skips...so I messaged her asking for her mailing address and I'm going to send her one. I'm not sure how many 'extra' copies of albums I have given away like this, but it is several. After all, I only need one for myself. Unless it is something I am collecting different versions of or something like that. Cheap Trick - Heaven Tonight

"Heaven Tonight," by Cheap Trick, from the 1978 "Heaven Tonight" album. Released by Epic Records.
10 responses

•
19 Sep 17
The Cheap Trick at Budokan album really cemented their popularity.

• United States
19 Sep 17
And I really don't understand why that was...it isn't (to me) that good of an album

• Philippines
19 Sep 17
Hi there! Good Morning! How nice of you giving some of your collections to people who wants something like that too

. My husband is also collecting albums like yours but don`t have the chance to play it because his radio is not working due to long time stock (I guess)

Thanks for this morning coughee music



• United States
19 Sep 17
I'm on a few vinyl collector groups on facebook, several times I have posted what I was playing and someone would comment they wished they had a copy, so if I had an extra I'd send it to them. And a few times, people have done the same for me. Since I wind up getting probably half of my albums for free or for a very low cost, it's the polite thing to do.

• Philippines
19 Sep 17
@JolietJake
..Wow! That`s nice


It`s like exchanging of collections


• Boise, Idaho
20 Sep 17
It's always nice to share what we have. Especially when we have extra.

• United States
20 Sep 17
This will go to Rhode Island and I have a copy of Fleetwood Mac 'Rumours' I am sending to a new home in Kansas

• Boise, Idaho
20 Sep 17

• Los Angeles, California
3 Oct 17

• Philippines
20 Sep 17
That's a sweet gesture from you JJ. Do you want my mailing address now? I'm kidding!


• Colorado Springs, Colorado
19 Sep 17
I love this album. I saw your comment on the first four. I wholeheartedly agree.

• United States
19 Sep 17
I wish for heaven tonight too.


• Ponce De Leon, Florida
19 Sep 17
Love some Cheap Trick, some others don't do it for me

• Ponce De Leon, Florida
19 Sep 17
Love some Cheap Trick, some others don't do it for me