Bjorn Socialist Republic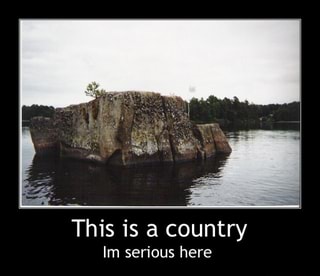 Riga, Latvia
September 21, 2017 12:56pm CST
Here is another little micro-nation. This one is right in Sweden and its leader is President Oskar Augustsson. I have to smile when I learn that there is zero population and it is only 6 sq.m. It is located on a stone that is shaped like a tractor. This tiny socialist state can be found near Bos Islands and does not recognize Swedish laws. It has its own hymn. This tiny place got noticed when Sweden refused to recognize a marriage between two citizens who tied the knot on the tiny rock. It claims to be the smallest republic in the world. Now isn't that the oddest thing you ever heard? Google image that really tells it like it is.
9 responses

• Riga, Latvia
23 Sep
What I am wondering is what kind of salary the President gets
@Kandae11

• Riga, Latvia
23 Sep
@vandana7
there are many strange things going on in this world.

• United States
21 Sep
That is so funny. Strange indeed for a tiny rock to be a republic.

• United States
21 Sep
@vandana7
That island would make a nice little vacation spot if one wants to be alone for a period of time.

• United States
21 Sep
Yes it is..very odd indeed, thanks for sharing Sandra.


• Toccoa, Georgia
22 Sep
Wow, I learned something new today! I never knew that existed! Interesting.



• Eugene, Oregon
23 Sep
What an odd thing that is.

• Riga, Latvia
23 Sep
Could very well be that someone is making money on this somehow
@JamesHxstatic

• Roseburg, Oregon
23 Sep
Very odd and things that I did not know.

•
21 Sep
rich people like politician celebrity can buy that island