All the single ladies.... put your hands up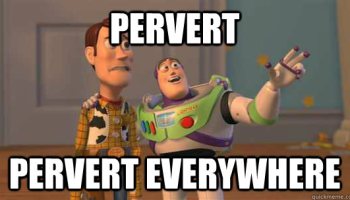 United Kingdom
September 23, 2017 6:10am CST
I ended up deleting the threads I made about tales from the dating sites as this one guy was googling me he said and I feared he would find them. Anyways after a revealing Skype conversation, I don't care if he does. Seriously, I couldn't believe his guy. He asked me straight out in the first skype call what my ass was like - did I have a nice butt. I was shocked. Didn't know what to say. Then he said it was warm where he was and I should be there in a bikini. I'd had been on the call with him for a matter of minutes. Luckily, my mum called on the phone, so I ended the call. Whatthefuk? I've blocked this guy now. Can you believe that? What a perv.
3 responses

• United States
23 Sep
You say that like it is a bad thing.

I've worked on my perversions for years, I'm practically a pro-vert now.


• United Kingdom
23 Sep
I think he had his down to a fine art too. Scary thing is, he is a professional musician and I could post his name and name and shame him. I was trying to have a proper 'nice to meet you' conversation and he was trying to web cam me, I think.

• United States
23 Sep
@SerenityEngel
I at least get to know someone first...that way it can always be labeled as harmless joking

• United States
23 Sep
@SerenityEngel
And I found out without even having to ask.



• Nairobi, Kenya
25 Sep
I have no chills for perverts

• United Kingdom
25 Sep
There's a mobile number left on my phone that I don't know. Maybe it is him? I hope not. It is a different mobile number from the one he used before.

• Nairobi, Kenya
25 Sep
@SerenityEngel
i hope it's not him that would be the worst thing ever...He made me so annoyed i feel like its me.Some of this guys do not know how to play their cards well.

• United Kingdom
25 Sep
@Kind4321
I think it might be the guy I had a date with 3 weeks ago. I need to go and look up his number in my emails. The perils of dating. That's why I haven't done it for several years.


• Colorado Springs, Colorado
23 Sep
That's a pretty bold approach on his part.


• United Kingdom
23 Sep
@teamfreak16
thank you! No doubt I'll end mentioning it here how it goes. We are going to see a movie and have something to eat. I would be happy just to meet a nice guy and go steady. All this dating really isn't my thing.