What are your favorite pasta substitutes?

United States
September 25, 2017 6:30pm CST
Over the past year I have changed my diet a lot and pasta isn't something that I eat a lot of any longer. The shift was hard at first as I'm Italian-American and we used to have pasta like 2 or 3 times a week at least as a side to our meals if not as the main course. Now it is more like once a month. So, I've tried different substitutes for your typical wheat or other flour-based pastas. My new favorite is spiralized zucchini. It holds its texture and has a mild flavor. It is great in stir-fries or under meatballs and sauce. I also like spaghetti squash. The strands are shorter but they are delicious with some salt and butter on them. Yum! The Miracle Noodles angel hair was not that great in my opinion. The texture just wasn't pleasant and I wouldn't buy them again. I'll stick to fresh veggie-based pasta replacers in the future! What do you eat when you are trying to sub for pasta on your plate?
11 responses

• Chile
25 Sep 17
I often have either pasta, rice, potato or couscous as a side dish. What doctors have told me is to eat smaller portions.

• East Tawas, Michigan
25 Sep 17
@marguicha
We eat pasta, rice, and potatoes, quite often and love it!:)

• East Tawas, Michigan
25 Sep 17
@NJChicaa
My husband shies away from most noodles or spaghetti. He has been gaining too much weight.



• East Tawas, Michigan
25 Sep 17
I cook either spaghetti squash or summer squash, which both of us love! Then, with Italian meat-sauce and Parmesan cheese over the top.

• East Tawas, Michigan
25 Sep 17
@NJChicaa
I also love these dishes, with mozzarella cheese melted over the top:)

• United States
25 Sep 17
@kobesbuddy
yeah we aren't supposed to eat much dairy either so we don't often have cheese in the house.


• United States
26 Sep 17
I know what you mean. I am also Italian and pasta is my weakness. And being diabetic it is not good to eat pasta. I love Zucchini. I have that machine that makes spaghetti out of Zucchini. And it is very good. And it cooks real fast. I have thought about getting that miracle noodle myself. Now I guess I will skip it all together. I have tried some of the so called low card pastas. Not too bad but they upset my stomach. I stick with baked chicken, no breading, pork chops and fish. And plenty of veggies.



• United States
26 Sep 17
I don't mind quinoa but it isn't something that is in the regular rotation around here. My mother made lentils growing up but without any salt or meat and they were cooked to the consistency of mush. I don't ever want to see another lentil in my life.

•
26 Sep 17
We have a lot of pasta, boiled rice or baked potatoes/ sweet potatoes. I've never bothered about finding a replacement! I just use more veg to bulk it up instead of large portions of pasta and lay off the cream or cheese sauces some of the time. Thankfully I have a very active job and do plenty of sport so I know I can easily burn off my guilty pleasure of mac cheese


• Colorado Springs, Colorado
27 Sep 17
I used to get a high protein wheat pasta from Performance Bicycles website. That's the only time I really tried to substitute.

• Philippines
26 Sep 17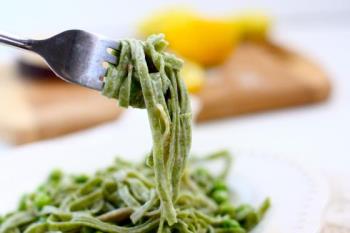 I heard a green Fettuccine noodles is healthier and better as a replacement for spaghetti

and I put Olive oil some parsely a sprinkle of parmesan cheese with mushrooms tastes so great!

• Malaysia
26 Sep 17
I don't eat pasta that often because Asians are used to eating rice or noodles. So, I am having brown rice with side dishes