This is my 1600th post and I love it here so far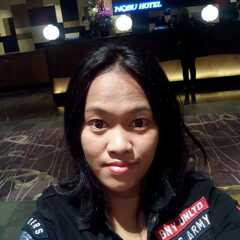 Pasay, Philippines
September 26, 2017 5:19am CST
Lemme introduce myself first as this is going to be my official post about anything and everything about myself. I haven't done it so far. I'm a Customer Service and a former Technical Support Representative for a US account as my daytime job. I've been doing it for the past 9 years and counting and pretty much I've talked with Americans and Austalians over the phone fo this entire time. I also own "Printing King" for 3 years, a printing shop in Manila. As an additional income, I am a graphics designer for different printing materials. I make designs for commissions. So during the day, I'm a graphics designer and a seller by day and by night I'm a CSR. I'm a freelance event writter and a blogger. I also create cosplay events. Some of my event clients are Crux Events Productions, Anime Hunters, Vocaloid Pilipinas, Oh! No Manga etc. I have flexible schedule in the morning. Most of the time I do myLotting during the day or if I'm on my break/lunch time at night. You can PM me with any jobs that needs to be done or anything under the sun. Thanks again. My full name: Resy Sy King. No BS, no fakes.. Just being real even online.
7 responses

• Philippines
27 Sep 17
Nice to meet you again! Quite the number of jobs you hold.

• Pasay, Philippines
27 Sep 17
Thank you, my good friend. If I didn't quit way back 2013 it could have been more. Well, I guess it is never too late to catch up and make more friends here. Thanks for staying up with me here in myLot as a friend, too


• Pasay, Philippines
27 Sep 17
Thank you so much! I love the pic you have posted. You've just made my day even brighter, thank you so much ,


• India
27 Sep 17
@resy21curapika
Thank you for your kind words, they made my day as well




• Lapu-Lapu City, Philippines
26 Sep 17
Seems to me that you are a busy person. And you are going to be richer and richer with you business and jobs you are doing. Glad to know you are enjoying your stay here just like everyone.

• Pasay, Philippines
27 Sep 17
Thank you so much, Daddy Neil! I know in due time I will be able to make it from my financial problems. I hope you enjoy staying here, too. Have a good day, okay?


• Pasay, Philippines
26 Sep 17
Thanks! I am really enjoying it here with you, guys. Thanks for you support. I am trying to make the most out of everything including my idle time that's why I also posts here in myLot. So far, I'm liking it.

• India
26 Sep 17
Wow.. cool..

congratulations on your post. Great going. Hope your day is good

• Pasay, Philippines
26 Sep 17
Thank you so much, my friend! Hope you're also doing good. Keep on posting here in myLot, my friend!


• United States
26 Sep 17
So glad you had stuck around here my friend and that you are enjoying it immensely. I bet your job is very interesting too. And are you staying at the printer shop in the same location or are you going to move it back to old?

• Pasay, Philippines
27 Sep 17
This is going to be my permanent place. I can never go back to the old house because it got demolished and it now has a new owner. The owner is my husband's uncle. They divided he big land into my father-in-law's siblings as they inherited the land from their parents way back mid 1920's. Now I need to work hard for me to have another house renovation so that the entrance of the shop will be better and there will be a more spacious area for the shop and the kids. It is actually pretty crowded here.

• Pasay, Philippines
27 Sep 17
I worked with big US names. AT&T, Cricket and Verizon to name a few but at this point I cannot disclose my current account as it is part of the non-disclosure agreement that I signed up for. I also worked as a sales representative so you know how it works, right? Telemarketers call you up for you to have an appointment, or get your credit card for a subscription you signed up for online, or even for trading forex online. I am now looking for more ways to earn even when I'm at home taking care of my two kids and looking over my small shop.

• United States
28 Sep 17



• Pasay, Philippines
27 Sep 17
Thank you. If ever you need help just PM me here. I am pretty much active here than Facebook. I use Facebook only when it is necessary. Besides, when you interact here, there's no negative vibes, no dramas, no BS posts. Everything here is all good vibes while meeting new awesome friends and earning while enjoying helping out others via meaningful post. Hope you enjoy your stay here as much as I do. I just stopped last 2013 due to some personal issues but right now I'm all good. I now have better means to myLot compared to before (which I stay in the office just to myLot since I don't have a laptop and a smartphone before)