Good News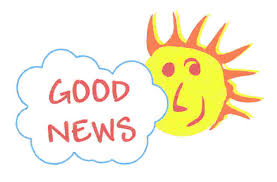 Green Bay, Wisconsin
September 26, 2017 11:39am CST
If it doesn't move me, it's not going to move you. Finding stories that are worthy of what I consider Good News is sometimes hard to find, or maybe I'm cynical in what I consider Good News. My first story is about a young girl who saved her mother's life. Malina Lakey was 8 years old when she was riding home with her parents from a movie when the SUV they were in hit a sharp curve and rolled six times. Her father got her out of the car, but her mother was still in the car. She went into action and after dealing with the air bag, got her mother out of the car. Malina was in Girl Scouts at the time and learning what to do in emergencies. Because of her heroic efforts, Malina Lakey was awarded the Medal of Honor - a life-saving award that has been only awarded one other time in the past decade. To read the whole story click on the link below. http://www.insideedition.com/headlines/25657-9-year-old-honored-for-saving-her-moms-life-after-car-crash-i-couldnt-prouder My second story is a cute humanitarian story coming out of Hurricane Irma. Student Asks to Bring Dog to Class Jessica Lewis is a college student and needed to evacuate her apartment right after class at her local college. She had everything packed and ready for as soon as class was over, but there was one problem. What to do about Luna. She wasn't going to leave her dog behind. Jessica e-mailed her professor and asked if it was okay to bring Luna to class, and he amazingly accepted. Having Luna in class helped in many ways. Relieving the stress everyone was under with the imminent hurricane and the need to evacuate being the greatest. Luna was a model student. 1 year old Luna made friends easily, and as soon as class was over, Jessica and Luna left and didn't return until it was okay to do so, and found their apartment didn't receive any damage. Everyone was safe and Jessica didn't need to worry about Luna. She had her with her the entire time. To read the entire story, click on the link below. https://www.today.com/pets/student-brings-dog-class-during-hurricane-irma-evacuation-t116602 Thanks for reading today's Good News stories.
7 responses

• Philippines
26 Sep 17
I love reading touching stories. Thanks for sharing.

• Green Bay, Wisconsin
26 Sep 17
You're welcome. I'm glad you enjoyed them.

•
26 Sep 17
Its a nice touching story. But i am just curious what genre really do you like in terms of reading?

• Green Bay, Wisconsin
26 Sep 17
I read all kinds of genres, mostly a good historical novel.


• Green Bay, Wisconsin
27 Sep 17
Yes, they do. I still need to do the one for today.

• Green Bay, Wisconsin
28 Sep 17
@HazySue
Thank you. I need to see what's available for today's Good News post.

• United States
27 Sep 17
Both of these are very good news and uplifting.

• Green Bay, Wisconsin
27 Sep 17
Thank you. I'm trying to bring some good news to the site.

• Roseburg, Oregon
27 Sep 17
Thanks for sharing those stories. I will go and read it now.

• United States
27 Sep 17
Those are both very heartwarming stories

thanks for sharing them with us.