How a Smile and Kind Words can Make a Difference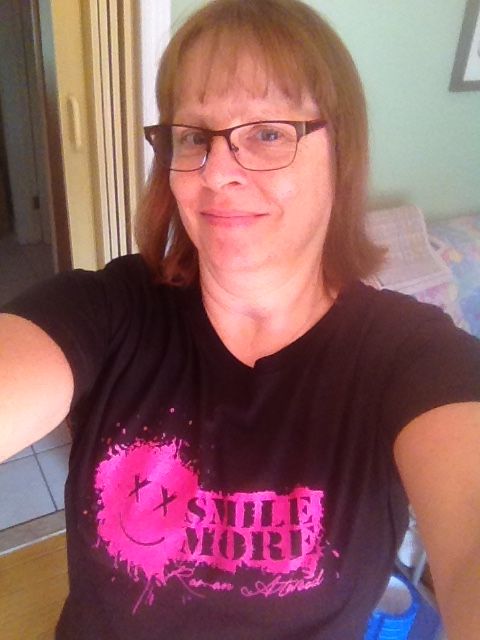 Orangeville, Ontario
September 26, 2017 6:15pm CST
I feel sometimes that I am not worth much. That I have nothing to offer. the other night I was live streaming on live.me. As the stream started to appear like no one was there, I began singing along with the music I was playing. Then someone piped up and told me they were proud of me. We, along with some others, talked about shyness and self-confidence. I said that live.me has helped me become more confident. I smile more because I've watched my broadcasts and seen how "ugly" I look when I don't smile. So I try to smile all the time. I get many compliments on my smile. That gave me the confidence to keep broadcasting. I saw someone at church on Saturday I hadn't seen in a long time. He said I seemed very chipper. He noticed a difference in me. But that's not the whole story. One person on the stream tonight told me how she has social anxiety disorder and selective mutism. It was late and there didn't seem to be anyone else on the stream. I suggested that she take a step and get into the beam (like Face Time). She didn't do it at first but when she did all that came up was a black screen. She couldn't talk, couldn't show her face, but at times the light of her phone screen lit up her hand clutching at her hair. She continued to communicate with me through typing. She told me she was scared of me because she looked up to me. She told me I was brave. I teared up and told her no one had ever said that to me before. I was patient with her, didn't push her. I got a glimpse of her forehead, even her eyes. When I told her that she said it was an accident. I told her I was very proud of her for making the effort and that she had just taken a big step. She said she couldn't try anymore, that she was tired (this was about a half an hour of me talking to the blank box). I said it was enough for one day and that if we found ourselves alone another time we could try it again. I knew we weren't really alone because I could see the hearts (likes) flying... they were really flying. Whoever was lurking in the background was liking what I was doing. After she left the stream I spoke to the people lurking in the background. I told them to stop hiding, to type something. One didn't type but he did hit the follow button which showed me his name. I continued to talk to whoever was lurking and was near tears at the end of the cast because I felt like maybe, just maybe, I had helped one person tonight. What an amazing feeling! The next night I won a giveaway on someone else's stream so I had to go live to receive it. In doing so a bunch from the other stream came over to mine to show me some love. Then they headed off to another winner's stream. I was about to do that when someone typed in that they felt like the life was draining out of them. I spent the next 15 minutes or so talking him off a ledge. I don't know what he heard because he didn't respond much. He was more discouraged about his lack of progress on the app so I gave him a lot of advice. I've been discouraged about the app, but now I'm not. Now I feel my purpose there might just be to make a difference in someone else's life. If I helped just one person then it's worth it.
10 responses




• Philippines
27 Sep 17
Yes smile can make a difference with someone especially when they are encountering some bad days, It lifts their spirit and fight the sadness




•
26 Sep 17
Well done!! Everyone is worth something and everyone has something to offer sometimes we just can't find what it is! It looks like you've found a way to help others and help your own confidence grow as well! Well done it sounds like a great way to do it!

• Philippines
28 Sep 17
I feel the same too. When I helped other people it kinda feels like I am quite proud of myself that I did it. Even if it seems my life is an enigma, I can find a way to better understand myself and show my sympathy to those people that really need an attention.


•
22 Jan
Can you tell me exactly what it is? Is it a program on your program where you can see people and they can see you? It sounds like it has helped you a lot and your reaching out to that person is a good thing.


• Philippines
27 Sep 17
You really found a good purpose for the app


• Orangeville, Ontario
28 Sep 17
I continue to help people in other ways since that night. Last night I had someone visit my stream who had just joined and knew absolutely nothing. I helped her out so much she leveled up twice in my stream. Someone else asked for my help today when I was in her stream, so I went live on my stream and she came in so I could speak to her instead of type. She thanked me for my help. She left but I continued to help anyone else who was still in there. Kill them with kindness.


• Alicante, Spain
29 Oct 17
sounds like you've done a good thing... and an important one too... making a positive difference in someones life...and I'm a great believer in as a person sows.. so shall they reap... You will probably find as you help others you will grow in a positive way yourself...



• Alicante, Spain
30 Oct 17
@patgalca
that's right ..you have to be careful you dont become affected by them...


• Orangeville, Ontario
31 Oct 17
@sueznewz2
Fortunately, one of my other frequent guests has befriended her and they are in touch through private messaging. Hopefully he is helping her.