They Keep Snagging All the Rocks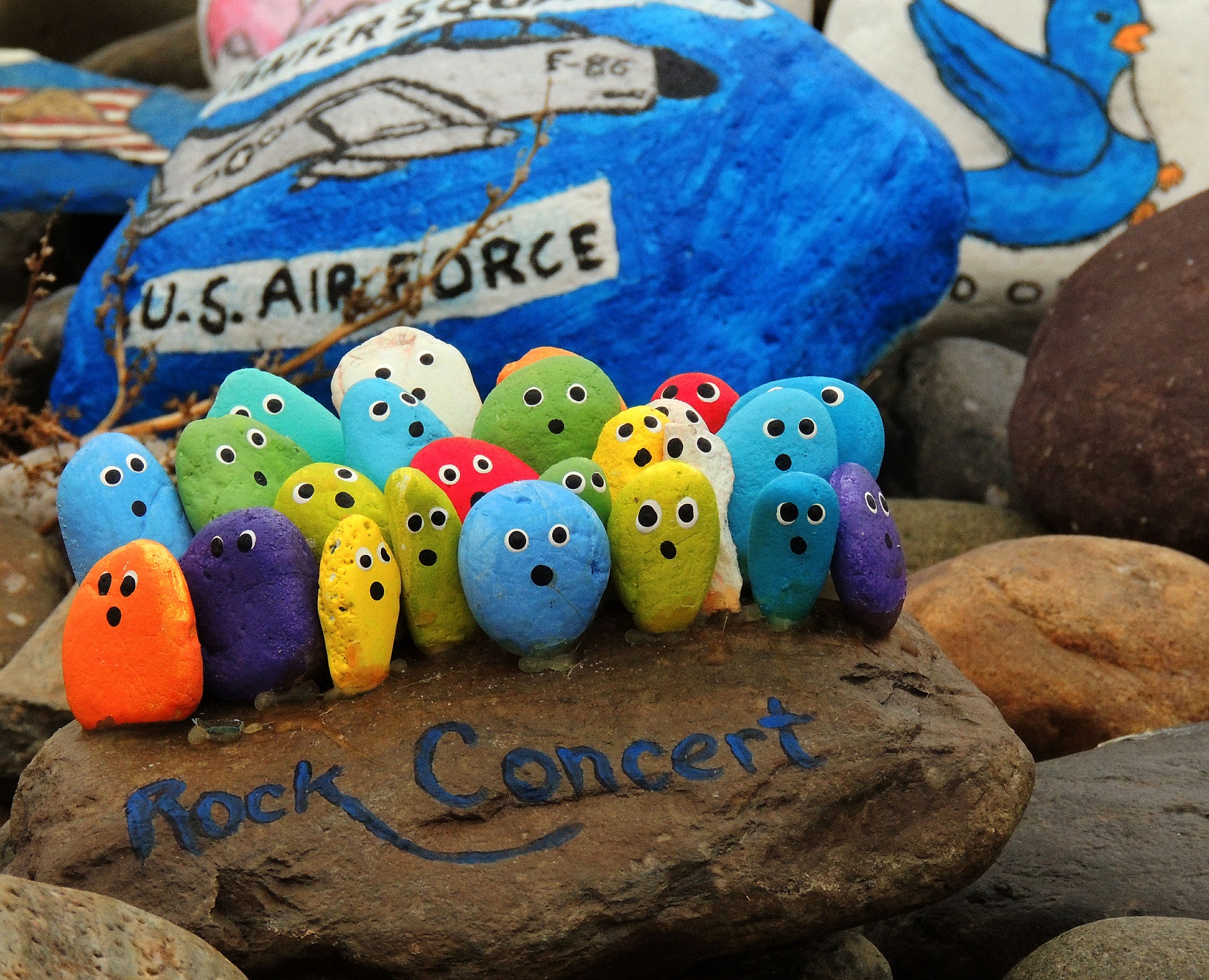 United States
October 2, 2017 1:49am CST
I belong to a group on Facebook dedicated to painting and hiding rocks around the area for people to find. This is a game that many communities around the country have been playing, apparently. Anyway, a lot of times people will post when they hide rocks and give a hint where the rocks are hidden at. But every time it seems the same couple families, headed by over-eager mothers, rush out and snag all the painted rocks, not leaving any for anyone else to find. One lady painted and hid 15 rocks yesterday. And one of the over-eager moms in the group rushed her kids out and snagged almost all of them. That just seems very selfish to me. I'm sure people are not putting in all that work so the same people can claim all of them over and over again. The over-eager mothers also threw a fit last week because people painted some rocks that they considered "inappropriate" for their sensibilities. Well, if they don't like the rocks, they don't HAVE to take them. They could always leave those ones for someone else to find. One was hidden outside a bar and another was left outside a strip club. Why are they rock hunting with their kids in those places, anyway? It's like they think the whole purpose of the game is so THEY can get a bunch of painted rocks. And these women (and their kids) don't seem to be painting any and hiding them, they just go out and claim them. I have been wanting to participate in this activity, but I don't want those same few people to snag and hoard the rocks I paint. I would rather someone who is not expecting to find one to stumble upon it, and perhaps bring a smile to their face. Just knowing that the same few bunch of kids and their moms keep grabbing up everything kinda sucks the fun out of it. Do people hide painted rocks in your area?
7 responses


• United States
2 Oct 17
I had never heard of it myself until recently. My sister found a painted rock and told me about it. It's supposed to be a way to cheer people up since there's so much negativity going on in the world, but it seems like it would be better for random people to find the rocks, rather than giving hints so the same few people keep finding them all. I have not found a rock yet. If I hide them I won't give any hints, I would just leave it somewhere and hope that it brightens the day of whoever finds it. I've thought about hiding them around assisted living facilities or senior living apartments where elderly people might find them.

• Switzerland
2 Oct 17
@Srbageldog
I do not know if elderly people would bend to search hidden rocks, near kindergartens would surely be a good idea.

• United States
2 Oct 17
@LadyDuck
I was thinking of setting them up higher where they could spot them and not have to bend to pick them up. Like maybe on top of a mailbox or on top of a hedge. Kindergartners would surely get a kick out of finding painted rocks!


• Lenox, Georgia
2 Oct 17
I think this is a great way to brighten someone's day, we also do it here. =)

• United States
3 Oct 17
Have you found (or hidden) any painted rocks yet?


• Lenox, Georgia
3 Oct 17
@Srbageldog
No not yet but we want to start doing both. =)

• United States
3 Oct 17
@LovingMyBabies
It seems like it would be a fun activity for the whole family. I've been wanting to paint some Halloween rocks and hide them around town, but I wouldn't post any hints online so random people can find them.


• Philippines
3 Oct 17
First time I've heard of this. No, people do not do this in our area. It would be fun to do so.

• United States
3 Oct 17
Maybe you could start doing it in your area and others would start doing it too.


• Philippines
3 Oct 17

• Waikoloa, Hawaii
6 Oct 17
its nice that if you painted rocks its design it must be seen in public do you have Prrizes for painting a rock?

• United States
6 Oct 17
No, no prizes, just the satisfaction that you've brought joy to someone's day.


• United States
2 Oct 17
It probably is just something we do here in the U.S. I have heard of people in other states (besides California) doing it.

• Banks, Oregon
2 Oct 17
I haven't seen this, but cool rocks though.

• United States
2 Oct 17
I didn't know about it until recently when my sister told me about it. I think it's a neat idea.

• Japan
2 Oct 17
No, this is not happening in Japan at all, but I would love it if it was. Or actually not, if people are hogging them. I love looking at natural rocks and have a collection from my walks sitting right in front of my computer. I have lava rocks and rocks with stripes and some rocks that look like sandstone that has a lot of iron in it. Our area has a lot of iron in the natural water.

• United States
2 Oct 17
Maybe you could start doing this and other people would catch on. I have not heard of people in other places hogging all the rocks, just people in my area. They are using it as entertainment for their kids, which is good I guess, but it is kind of inconsiderate to others who might be interested in participating. Your rocks sound fascinating. I have always loved looking at natural rocks, too. I used to collect rocks when I was little, whenever I found an interesting one.