Beware the Vampire Squirrel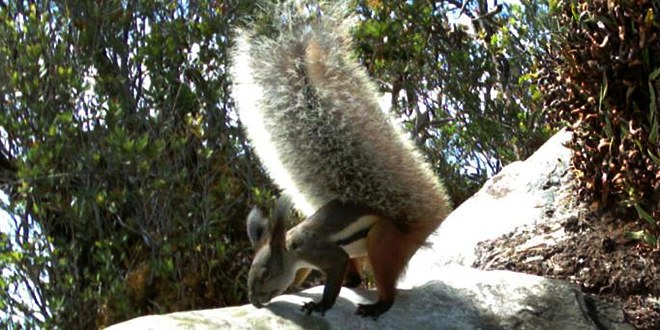 Daytona Beach, Florida
October 3, 2017 11:49am CST
Why should people be the only ones to get in on Halloween fun? I just stumbled across the vampire squirrel online. The bad news is that this squirrel is for real. Researchers have seen it in the wild at present in a national park in Indonesia. This squirrel has been caught on camera at the Gunung Palung National Park in West Kalimantan on the island of Borneo. Even though all they got was footage of 15 seconds they could clearly see that the squirrel had a large fluffy tail. They are hoping to get more footage so that they can start to learn about this rodent. What is known is that the vampire squirrel is native to Borneo and is known as the tufted ground squirrel. This animal has a tail which is larger than its body as you can see in the photo. You might be curious as to why it is the vampire squirrel. Well you see it has pointy bat-like ears and attacks forest deer so that it can drink their blood. Who wants a nifty new pet?

Ladies and gentlemen, feast your unbelieving eyes on the first recorded footage of this mysterious rodent! Marvel at its massive, fluffy tail! Hear unbelievable stories about its bloodthirsty nature!
7 responses

• Los Angeles, California
3 Oct 17
Can a squirrel turn into a bat?

• Daytona Beach, Florida
5 Oct 17
I don't think so
@JohnRoberts
but there are flying squirrels as well. They haven't discovered too much about this one perhaps he can fly.


• Preston, England
5 Oct 17
wow, never knew such a creature existed

• Daytona Beach, Florida
5 Oct 17
Frightening isn't it? You never know what you'll come across
@arthurchappell

• Preston, England
8 Oct 17

• United States
3 Oct 17
Oh, my. I have never heard of the vampire squirrel. I am glad we have none here!! Well, I hope we have none here. Yikes.

• Daytona Beach, Florida
5 Oct 17
It might turn up on Halloween
@Corbin5




• Bunbury, Australia
4 Oct 17
That's a great tail - and I noticed the ears as well.

• United States
4 Oct 17
I hope they can't turn into a bat and fly over here to the U.S.


•
4 Oct 17
That is a strange looking squirrel for sure! I've never seen ears like that