Taking someone else's sandals by mistake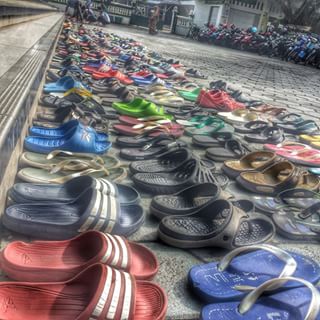 Indonesia
October 4, 2017 1:16am CST
Those who want to go inside the mosque should take their shoes or sandals off and leave them outside. Rows of pairs of sandals can be confusing as some pairs are the same type -- size and color as well. This happened to me twice. I took pair of sandal by mistake as I rushed out of the mosque earlier. When I arrived home I realized that they were not mine. There were marks carved by the owner actually but I overlooked the marks. So, what I did was to return the sandals to where I took them.
6 responses

• Japan
4 Oct 17
In Japan we take off our shoes when going into many buildings (at least we used to, it's not as common now.) When I first came, we took off our shoes going into church. One of my friends tried to put her feet in her shoes and the shoes were too small. Someone had shoes that looked the same but a bit smaller. The other person didn't discover it until the next Sunday. Then they got their own shoes back. I also had someone ride off on my bicycle once, it looked like his.

• Waikoloa, Hawaii
4 Oct 17
my cousins always getting my sandals when she visits our home

• Indonesia
4 Oct 17
I think she did it on purpose.

• United States
4 Oct 17
As long as they have no foot and mouth disease it is fine.


• Indonesia
5 Oct 17
@TiarasOceanView
This morning I returned the slippers and left the place after everyone else had left earlier. I found my slippers there, and the one I mistook was no longer there. The owner must have seen them and picked them up.


• Philippines
4 Oct 17
It's good that you returned the slippers. Some people don't.

• Indonesia
4 Oct 17
I feel guilty if I don't return the sandals. I don't want to live with guilty feeling.

• Malaysia
4 Oct 17
I also accidentally took people's sandals when we are gathering for festivals. As you said I will return back to them.

• Indonesia
4 Oct 17
If we cannot return the sandals due to the owner having left. What I do is to give charity worth the price of the sandals in his/her name.

• Philippines
4 Oct 17
i've always thought it was bound to happen.

• Indonesia
4 Oct 17
I see. It happened to me twice. The first one was returned and it seemed the owner had taken them back. The second one happened this morning. I still keep them at home. Plan to return them this evening to the place I took them by mistake.