Nowhere else than on myLot : preview of the Chto Delat installation in Paris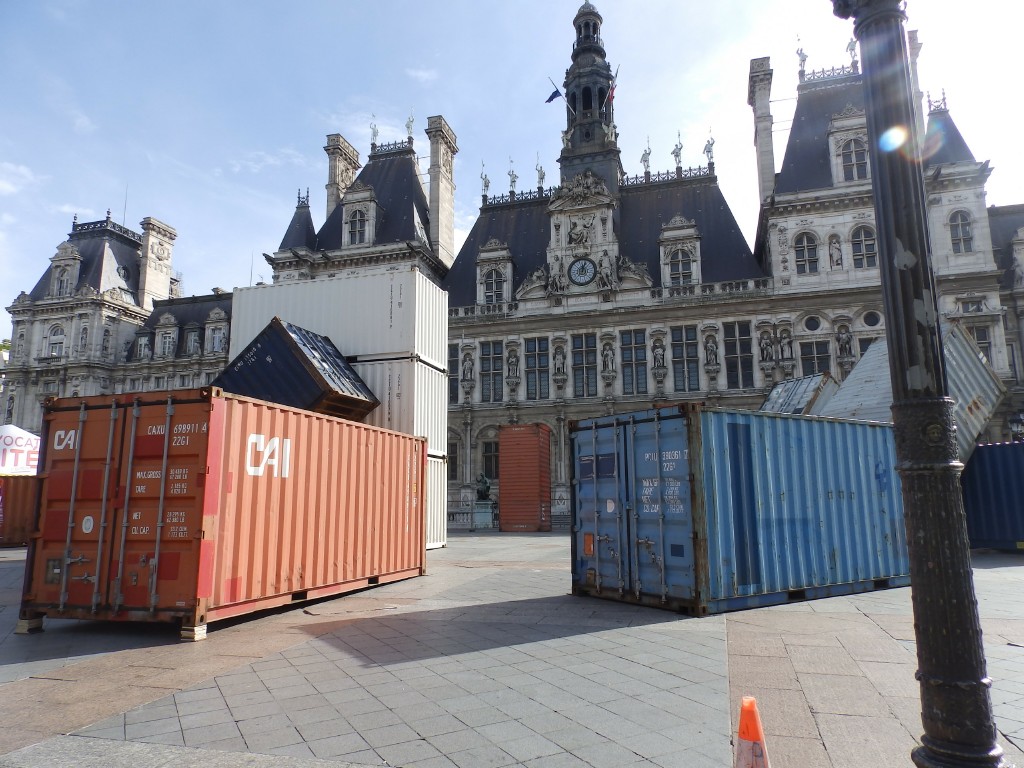 Hamburg, Germany
October 6, 2017 7:14am CST
Tomorrow night will be the 15th Nuit Blanche/Sleepless Night in Paris with many events scheduled. This installation that can be seen on the forecourt of the City Hall is part of the official program of the night. It has been made by «Chto Delat», a Russian collective of «artists, critics, philosophers, and writers from St. Petersburg, Moscow, and Nizhny Novgorod with the goal of merging political theory, art, and activism.» It is what I am reading on their website. At first, I thought that it was from a collective of port workers striking, how stupid am I

! What has always fascinated me in contemporary art is not the art, but the speech of the artist(s). So, what is the speech behind these piles of ugly containers justifying their presence in front of the City Hall ? This is «a monument dedicated to the century of revolutions». OMG

! October 1917-October 2017, something had to be done, for sure

. The collective «will invite to a travel inside containers inside the histoy of revolutions». Inside/inside : very Russian

, these containers are a modern kind of Russian dolls. Deep thinking, with a civilizational blink of eye

However, I would have expected something about the Paris Commune of 1870 in front of the City Hall, but it does not seem to have been made specifically for Paris

. Indeed, the best place for a monument to commemorate the centenary of the Russian Revolution of october 1917 would have been the Red Square in Moscow near Lenin's mausoleum, as «Chto Delat» "What should be done ?" was the title of a book by Lenin. They would have had a lot more space. But maybe Putin did not liked the political activism brought by these containers


? Searching. Wow

! It was in Toronto on September 30th/October 1st for another sleepless night, and I took this picture of the installation in progress on October 4th

! Artists are working fast today, I am impressed. «Though Nuit Blanche in Toronto ends early Sunday morning, part of Chto Delat's installation will travel to Paris for the French capital's edition of the festival on October 7.» There is something really weird : usually artists are maniacs when it comes to installations, each item has to be put exactly like it should be in their mind, but the installation in Toronto was not looking at all like the installation in Paris... I do not know if the inside will be organized with the same dilettantism than the outside (what I call «dilettantism» is probably «an improved installation rethinked by the artist»

), it is not that important as it will be opened only between 7pm tomorrow and 7am Sunday, and after 2am, when the museums will close and people will look for something else, half of them will be drunk and will find funny to visit these containers. The idea and the speech are great, what else

?
https://news.artnet.com/art-world/creative-time-summit-toronto-2-1100582
7 responses

• Switzerland
6 Oct 17
I cannot see Art in containers painted, or with big cutout glued on them. I am also not at all a fan of "Nuit Blanche". I know it's only one night, but I wonder why those who want to rest have less rights of those who want to make noise. Send noisy people in open spaces far from residential houses. Let's hope that nothing wrong happens.

• Hamburg, Germany
6 Oct 17
It is a Saturday night, and they are noisy everywhere in France. Maybe not everywhere, but in my street they are

. What I find interesting is that, besides music and concerts, Paris opens also for free all the museums during the night until 2 am. Some museums are magical during the night. There is a Night of Museums in April, but only people interested by museums are visiting them during this night. Mixing it with various other events like tomorrow gives a chance to some people who would have never thought to visit a museum to do it. Maybe I am dreaming, but I think that it is not bad. For the "art in containers" thing, I cannot tell if it this installation is good or not, I have seen only the beginning of the installation. I think that they have not enough time and the difference between Toronto and Paris is surprising. I will read to know what the visitors thought of it. Thank you to have responded. I was not expecting a lot of responses to a discussion about contemporary art, but only two...

I am preparing another discussion, and I reduce the educational level needed to respond

.

• Switzerland
6 Oct 17
@topffer
Only two?

You are right and from two Europeans of course.

. I like to visit museums, during the day and I would be more than happy if all the museums would have longer opening hours. Many are closed on Sundays and this is a very stupid thing to do.

• Hamburg, Germany
6 Oct 17
@LadyDuck
The 2 having learned at school that a Revolution occurred in Russia in october 1917 I suppose

. I am mean, there are certainly more, they are just not interested. Museums are closed on Tuesdays in France, and many are opened for free the first Sunday of the month, except during summer.


•
12 Oct 17
The Toronto artists were more artistic than the Parisian ones.


• Hamburg, Germany
12 Oct 17
For what I read in Toronto there were also Canadian artists, but only Russians in Paris. I think the installation was looking better in Paris, but I found weird that they modify the installation from place to place and present it like the same "monument".

•
12 Oct 17
@topffer

just to show you, the installation has been influenced by the philosophers of the continent itself. French philosophers (Russian background?) are always deeper thinkers than the Canadians? The moment you mention the structure like the Russian dolls, I understand right at once.

• Hamburg, Germany
12 Oct 17
@YrNemo
Just my own silly interpretation, but it might be the right one

. Sad to tell, but I think that it is not serious to have only 1 week between 2 installations and to have them opened to the public during only 1 night. It looks more like a commercial operation than like art. Or they do not take their art seriously.


• United States
6 Oct 17
That merging of political theory, art, and activism is one strange part of the program for the night. I agree that those who are drunk may find humor in those containers.

• Hamburg, Germany
6 Oct 17
Thank you to respond to this discussion


This mix is the calling card of this Russian collective. I hope that this night where all main museums will be also opened for free will encourage a few people never entering in museums to push a door. Drunk or not

.

• Bunbury, Australia
10 Oct 17
Most modern art goes right over my head I'm afraid. I'll be one of those looking out for your post aimed at a 'reduced educational level'.


• Waikoloa, Hawaii
7 Oct 17
thanks for sharing your adventure its looks like a castle? and what the container van doing in the gate?


• Hamburg, Germany
6 Oct 17
Since 30 years the main thing that seems to matter is the speech of the artist, and there is not a lot of modern art that will be able to survive without this speech. If you see some, you can buy it. Just an opinion. I have not visited this "monument", just saw the beginning of the installation, so I cannot objectively tell if it is good, but this first impression is not favorable : very different installation between Toronto and Paris, and as the art has to travel, probably no more than 48 hours to install it inside the containers, which is very short, because some work has certainly to be done on the containers (indeed, they are not the same than in Toronto).

• United States
20 Oct 17
Port workers strike

- I can see why! I have found that with contemporary art, one does have to see beyond the actual art . . . to see the development and message of it all - it's not necessarily about the "art" itself. And perhaps that is why it is fine to them that the installations are not identical at all locations (besides the fact that we live in such a time oriented society . . . time is not on their side either

- whatever works to get the installation in place!). It would make sense to have this in Russia, but I agree Putin would not have approved it

.