BB is for Blueberry Bread!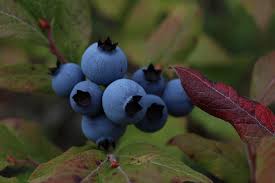 Saco, Maine
October 7, 2017 1:04pm CST
Awhile back, my daughter gave me some frozen blueberries that she wasn't going to use. The bag was pretty large, so I separated the berries out into 2-cup portions and transferred them to smaller bags. Yesterday, I got a hankering for some kind of sweet, so I made a loaf of blueberry bread. I hadn't made any in a long time, and I'd forgotten how much I love it. Because quick breads have the same consistency as muffins, many people eat slices of it warm with butter. I prefer to chill the finished loaf and eat it cold without any butter, as I find it has much more flavor that way. I had some for breakfast today, and oh boy, was that good. I'd have to say that, along with banana bread, blueberry is my favorite. So I won't be letting as much time go by before deciding to make it again. (Public Domain Image)
5 responses

• United States
7 Oct 17
Blueberries is one of my favorites fruits.


• Saco, Maine
7 Oct 17
It's wonderful. I will be keeping frozen blueberries on hand from now on, as it took only a few minute to throw this together.

• Saco, Maine
8 Oct 17
@marlina
Yes, we do. But I usually miss the season, so I buy the frozen ones. Many moons ago, I was an avid forager and was always looking for new places to pick wild berries. Those days are gone for me now, so fortunately, I can buy them year-round.


• United States
7 Oct 17
I bet that blueberry bread was quite tasty!! Such a good use of those blueberries!!

• Saco, Maine
7 Oct 17
Oh, it's darn good. The recipe called for 1 1/2 cups berries, but I used closer to 2. So the bread is nice and moist and delicious.

• United States
7 Oct 17
I have never made this.But keep thinking about it.Sounds good there.

• Saco, Maine
7 Oct 17
I found a very easy recipe, Fredo...on All-Recipes. Here is the link to it:

This simple loaf is loaded with blueberries and is perfect for breakfast or a quick snack.

• United States
7 Oct 17
@Raelove
thank you so much.Going to check on this.I know can do this.thanks.


• Saco, Maine
8 Oct 17
@amadeo
I know you can, too, Fredo. Let me know how you like it. Good luck!



• Philippines
8 Oct 17
Truly, blueberries tastes good especially making it into bread. That's yummy. I've tasted blueberry muffins in my place with jam. I must agree it was so good.

• Saco, Maine
8 Oct 17
Yes it is. I load the bread with more blueberries, so I don't need jam.