My Worst Ride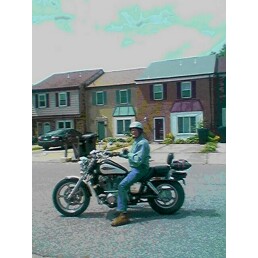 Virginia Beach, Virginia
October 7, 2017 2:44pm CST
Although it has been more than 30 years some things are still fresh in my mind as though it happened yesterday. I'm referring to the worst motorcycle ride of my life. Let me start by saying that riding for fun was long past. I rode year-round when my children were small because a motorcycle was the cheapest transportation I could find and that was when every penny counted. Snow, rain, sleet, and oh, hail! I experienced it all in the name of economy. When our youngest son was 4, he was hit by a car and spent nearly 2 weeks in a coma. Our little family was devastated. My then-wife had a motorcycle too but I didn't want her riding alone to a Norfolk hospital so I bought her a car. One of us had to sit with Daniel around the clock so we couldn't always be there together. Fast-forwarding to make a long story short, a month or so after he came home, she used that car to leave me. I came home from work one evening to find a completely empty house. My wife and 3 children had disappeared. I knew that she was mad at God for allowing our son's injuries and then she got mad at me because I wasn't mad. I was just thankful that our boy wasn't killed. Naturally, my world crumbled even more. I couldn't even go to work because my position as a heavy equipment operator required more focus than I could put forth. It only took a few days for my survival instinct to kick in. I had run out of money so I decided to go back to work. Unfortunately, right after I reported to work one morning, it began to rain. Being late November, I knew the ground wouldn't dry out very quickly when it stopped so the whole crew went home. There I sat, broke and hungry in my empty living room trying to figure out what to do next. TO BE CONTINUED:
6 responses

• Canada
7 Oct 17
Heading to the second part...will comment more.

• Malaysia
8 Oct 17
oh that is so sad and unkind that your wife couldn't just understand you more. She should stick to you through thick and thin

• Virginia Beach, Virginia
8 Oct 17
Live and learn
@peachpurple
Sometimes when caught up in our own hurt we fail to see the same thing in others.

• Malaysia
8 Oct 17

• Lenox, Georgia
7 Oct 17
I'm sorry for his accident and I'm sorry she left you like that. =(

• Virginia Beach, Virginia
8 Oct 17
Don't be
@LovingMyBabies
That was a long time ago and I have healed from it.

• Lenox, Georgia
8 Oct 17
@UncleJoe
I know and I'm glad you have, it's just sad that it happened at all.

• United States
8 Oct 17
How horrible for you to go through all that and then come home to find your entire family gone. Off to read part 2.

• Virginia Beach, Virginia
8 Oct 17
Yes,
@Srbageldog
That was the most devastating time of my life. A lot of people would have gone nuts.There are still a few who think I am.


• United States
8 Oct 17
Ohh wow, I cant even imagine going thru all that. I have heard tragedies either bring people together or drive them apart. I would hope that if something like that happened it would bring together and support each other. Im sorry. Off to read part 2