Favorite Movies From 1986 # 10- Big Trouble in little China.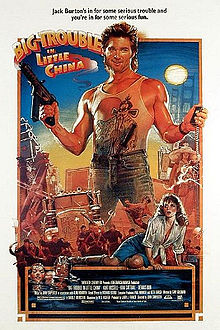 Banks, Oregon
October 8, 2017 2:59am CST
Hey, everyone and, I hope all is well in your neck of the woods. I am here with another fun new series and, it's my favorite movies from 1986, in at # 10 is big trouble in little China, by John Carpenter and, starring Kurt Russell and, Kim Catrall, it was a martial arts comedy movie. Russell stars John Burton, who helps his friend Wang Chang rescue his green eyed fiance, from a sorcerer David Lo Pan, it's a good movie Kurt Russell is excellent in the part of John Burton. Some information verified at Wikipedia. Photo is from Wikipedia. It's the theatrical poster.
8 responses

• Philippines
8 Oct
I never watch this movie before, maybe I should give it a look.

• Banks, Oregon
8 Oct
It's a good movie funny and, action packed.

• United States
8 Oct
I have not seen this movie. I do enjoy Kurt Russel's work, though.

• Philippines
9 Oct
I remember the movie but can't recall if I watched it or not. Perhaps, it is time to look it up online and watch it.

• Banks, Oregon
9 Oct
It's worth a watch action packed and, funny.

• Colorado Springs, Colorado
8 Oct
Great choice! I love Kurt Russell.

• Banks, Oregon
8 Oct
Thanks you can't beat a good Kurt Russell movie.

• United States
8 Oct
This one does seem familiar -- I may have seen it

• Banks, Oregon
8 Oct
It's a pretty good movie.

• Green Bay, Wisconsin
8 Oct
I think I saw it. But only once, so I don't remember anything accept it starred Kurt Russell.

• Banks, Oregon
8 Oct
lol that's the most important part.

• Canada
8 Oct
Didn't see that one but I really like Russel. I liked him in the movie where he played a carpenter and went to fix this rich woman closet on her yacht. He seems to have enjoyed making moves and brought some humor to them along with the other people he worked with of course.

• Banks, Oregon
8 Oct
Good to see another fan, he is one of my favorite actors and, I love that movie too.

• Waikoloa, Hawaii
9 Oct
is this first time that hollywood make movie in china?