police cars

Canada
10 responses


• India
3 Dec 06
Laws are also made to see that you don't break the law!



•
2 Dec 06
I think it is fair. If you follow the rules there won't be a problem. I think unmarked cars are a deterrent because you never know when one is the cops so I would think that would keep you on your toes.

• Janesville, Wisconsin
2 Dec 06
Yes, It is a fair practice, and I wish.. They would do this more often to catch people who run railroad crossing gates, and stop lights. - DNatureofDTrain

• India
3 Dec 06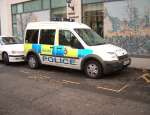 As myspot said, people who 'jump' the lights if they know that there are no police around, would be deterred from taking liberties in future. One would have nothing to worry if one is law-abiding. It's the law-breaker who spend sleepless nights. Moreover, when we have plainclothes policmen moving about like normal people, why shouldn't we have 'plainclothes'(unmarked) police-cars!?? In case you're interested, here is a site showing police cars of every country in the world: http://www.policeworldwide.com/en/gallery.php

• United States
10 Jan 07
If we are obeying the laws, then it really does not matter what the police are driving. Yet, so many people want to restrict the law enforcers to improve their chances of getting away with wrong. Although a popular notion, it is still wrong. Un marked police cars, and police cars hiding around the curve are all for the purpose of catching law breakers and encouraging them to be better drivers. Thanks for asking, Have a great day!

• United States
9 Jan 07
Marked cars obviously are not deterents because people break the law everyday right in front of the police...that is how they get stopped. As for being fair...heck yea....laws were made for a reason to protect us...if you break them it shouldn't matter who is standing by you should be ticketed or arrested depending on the crime.

• United States
3 Dec 06
Also called an undercover cop car, I dont see anything wrong with it. when people see a cop they slow down and follow the law, which i dont find is right to the other people on the road. if you dont know they are there then you are going to continue, they should be caught.

• United States
3 Dec 06
I think it is fair. They will get the ones that habitually break the law. If you see the police car you are naturally going to be on your best behaviour. I have always had an automatic foot--when I see a police car, I automatically take my foot off the gas. :)