It's Heartbreaking!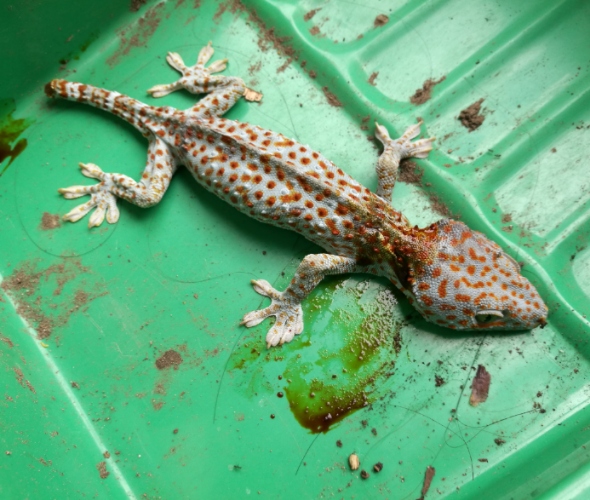 Philippines
October 8, 2017 7:13pm CST
Our grandson, Bryan, grade 9, made fun of "tuko" , house lizard known as gecko. He let Garfol catch it which is on the wall of our bathroom. Garfol caught it and it dropped on the floor. My wife stopped it and shoved Garfol away. My wife told me while I was still in bed. I couldn't help myself but cried. I got out and told Bryan that Tuko has the right to live. It's very useful for it gets rid of harmful insects in the house like mosquitoes and cockroaches. Tuko lost a part of its and got bite in its neck. Gingging, my 2nd elder daugther applied first aid. Hope it would recover. After a minute, we overheard a gecko's sound somewhere in the house. Any living things have the right to live. Let's take care of them. I hope this words of life preservation is inculcated by Bryan to his mind.
10 responses




• Guangdong, China
9 Oct 17
oh,,this lovely creature just passed away in silence.

• Guangdong, China
9 Oct 17

• Philippines
9 Oct 17
@Behindtheguitarbar
Let's give them their right to live just as human. They feed themselves of the insects they find inside the house.


• Malaysia
9 Oct 17
I'm not too fond of any type of lizards but never killed any on purpose. I still wish they'd stay away from my house though.

• Malaysia
9 Oct 17
@dodoazo
They do, and I guess I don't mind if they stay out there in the balcony or something.


• Philippines
9 Oct 17
@cahaya1983
leave them outside where they find themselves safe.

• Philippines
9 Oct 17
In my childhood home, we have that there in our bathroom and it's left alone for many many years.

• Philippines
9 Oct 17

• Philippines
9 Oct 17

• Philippines
9 Oct 17
Oh my, we are so afraid of gecko

• Chile
9 Oct 17
I know lizards can grow another tail.


• Waikoloa, Hawaii
18 Oct 17
i feel sorry to that giant lizard its like salamander can it be eaten? or to be pets?

• Midland, Michigan
10 Oct 17
I can see saving the gecko's life, but most of us would put it in a safe place outdoors rather than letting it stay and live in our homes. I didn't realize they killed cockroaches, though. My sister lives in Detroit and the recent tenant brought some into their flat. I'll let her know if she has any problems with them still to get herself a gecko and the cockroaches should disappear. I'm sure she won't think I'm funny and wouldn't want to try that approach, but I may tell her just the same.

• India
9 Oct 17
Yes , they are useful in house. Hope it's fine now