Favorite Movies From 1986 # 9- Crocodile Dundee.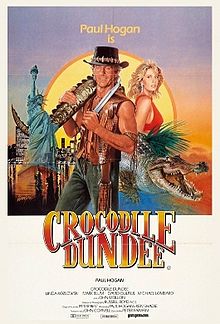 Banks, Oregon
October 9, 2017 11:30pm CST
Coming in at # 9 on my favorite movies from 1986 series is Crocodile Dundee, starring Paul Hogan, a hunter from the Outback, who called women Shelia's, the movie takes place in the outback and, New York, it also starred Hogan's future wife Linda Kozlowski, another interesting note is it was inspired by a real persons life Rod Ansell. It's a action packed and, funny movie Some information verified at Wikipedia, it was the 2nd highest grossing film in the US and, the world that year. Photo is from Wikipedia.
5 responses

• Denver, Colorado
10 Oct 17
"That's not a knife. THIS is a knife." Still gets quoted over 30 years later.

• Banks, Oregon
10 Oct 17
Great line from the movie and, it did put a whole new meaning to the word knife.

• Philippines
11 Oct 17
Good movie. Weren't there multiple sequels to this?

• Banks, Oregon
11 Oct 17
2 or 3 I think. Very successful franchise.

• Hong Kong
10 Oct 17
@TRBRocks420
I love this film after all these years my friend.


• Anniston, Alabama
10 Oct 17
Like Scott, I remember the knife line most.

• Banks, Oregon
10 Oct 17
Probably the most famous line from the movie.

• Roseburg, Oregon
10 Oct 17
I really liked the movie Crocodile Dundee. It was a really good movie.