Empathy

United States
October 11, 2017 9:57am CST
A few weeks ago I posted about a fire at a neighbor's house. I cannot even begin to tell you the lump in my throat and the roller coaster-like drop in my stomach when I looked toward my street from my aunt's old house (two blocks over) and saw the smoke. I knew that was my street. The relief that I felt when my next-door neighbor answered her phone and told me it wasn't my house (or her house). The momentary relief was replaced by empathy for the neighbor who was standing outside, watching his dwelling burn. It's amazing how God deals with me as I get older. Years ago I would have said, "It's just stuff." (See the George Carlin stand-up skit about how a house is just a place for your stuff.") Now I'm older, wiser, and more concerned. Thank you, God. Yesterday I was watching the San Francisco (KRON) news coverage of the fires that popped up out of nowhere and have ravaged neighborhoods, communities, and people in the Wine Country region. As the news showed piles of ashes (and things that strangely survived the intense heat, such as a spiral staircase at one house) that used to be representations of people's lives I felt that pain in my stomach that I'd know earlier this autumn, thinking it was my house on fire. I also remember the agony I felt when my favorite vacation spot, Gatlinburg, Tennessee, suffered destruction and death with a wildfire in November 2016. Watching the coverage, the one thing I kept thinking was, "I hope they had insurance." NOT "This is gonna make my insurance go through the roof," but, "Oh, those poor people." This thing rose quickly, understand. Sunday afternoon they were playing a PGA tournament. Sunday night the grandstands that had held spectators were on fire. There is a story about how former pitcher Bret Saberhagen had to flee twice, first from the golf course (where he was scheduled to play in a scramble to raise money for the Michael J. Fox Foundation), then from the hotel where he evacuated to. I have never been forced out of my home. I pray I never am. But that doesn't mean I'm sitting in my rocking chair, unconcerned about what the Wine Country is suffering. If you're a person of faith, pray for them.
8 responses

• Los Angeles, California
11 Oct 17
Even if insurance can mostly help getting new roof over the head and furniture and stuff but no amount of money can ever replace vanished photos, keepsakes etc. It isn't just "stuff" but memories.

• Toccoa, Georgia
11 Oct 17
Hopefully, those homeowners had enough time to gather up and rescue some of those precious keepsakes before they were forced to flee.

•
15 Oct 17
John, you are so right. No amount of money can replace things you cannot replace. It is sad that they are gone forever.

• Denver, Colorado
12 Oct 17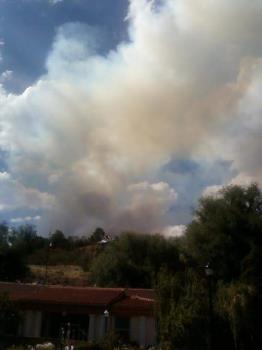 We got evacuated five years ago during the Waldo Canyon fire. This was the scene on the other side of the ridge. I took the photo from right outside of our apartment.

• Toccoa, Georgia
11 Oct 17
It really hurts my heart too.

• South Africa
12 Oct 17
there is much suffering going on in the world and in different ways. We have to keep ourselves on bended knees and hope all will be well in the end. I can relate to your feeling of More Empathy as one gets older. I have softened greatly with age and I like myself more for the inner feelings it presents.

• United States
12 Oct 17
I keep thinking about a saying that was on my grandparents' kitchen wall...."We grow too soon old and too late smart." I'm glad I didn't wait until it was too late to get "smart" about worrying about others.

• South Africa
12 Oct 17
@FourWalls
thats very true. thank you for sharing such a profound statement.

•
15 Oct 17
@FourWalls
Very interesting saying. I never heard of it before, but, it is a good one.

•
13 Oct 17
I understand. I was forced at the apartment I lived in. I woke up one time and I was inside and all 4 basement apartments were flooded. There was not flood insurance and I got a tiny grant. I lost so much and can never replace it. It is very horrible when bad things happen and it is sad those that have been affected by it.

• United States
12 Oct 17
These fires are burning up and down the state. My community has been effected, although not my town itself; some of our neighboring communities have been burned to the ground, countless people have lost their homes, and other structures have been lost to the fires. My heart goes out to all the people affected by these fires in California; there are so many of them.

• United States
11 Oct 17
My prayers for them have been said each day. Like you, as I age, my heart breaks more often and the pain I feel due to the suffering of others is more intense.

• United States
11 Oct 17
Oh yes it affects me deeply to see the fires in CA. I am of faith and have great compassion for the people. I have lost everything so it is not just stuff.