Halloween's A-comin'!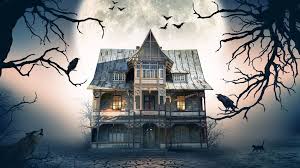 Virginia Beach, Virginia
October 12, 2017 9:29pm CST
@Platespinner and her costumes reminded me that Halloween is very near. Do you have plans? I don't have a costume, but don't really need one. Most folks think I am wearing a Zombie Mask. We are currently working on ideas for a haunted house. Those are usually quite entertaining. Since I have always been against traumatizing small children or scaring the elderly into a heart attack, I want to design one just for adults. We only have 4 rooms so it should be easy. The first one will be a "We need to talk" Room. Tell me that won't scare the snot outa some guys. The next will be the "IRS Audit" Room. Wouldn't that get your attention? Then the third one they come to will be the "School Just Called" Room. Now THAT will stop your heart. We just haven't come up with a good motif for the last room. Any ideas?
5 responses

• United States
13 Oct 17
Perhaps an "Uh-oh I'm Pregnant" room? Of course that might fall under the "We Need to Talk" category.


• Virginia Beach, Virginia
13 Oct 17

• United States
13 Oct 17
We actually play cards on Tuesday evenings so I am not quite sure what we are going to do about Halloween.

• United States
13 Oct 17
No plans yet. How about just a recording of screams coming from that room and allow people to name it themseves

• Virginia Beach, Virginia
13 Oct 17

• Malaysia
13 Oct 17
We don't celebrate it here but I hope you will have a grand time then.

• Jacksonville, Florida
13 Oct 17
These do sound scary!