Back on August 24th, the Girls Scouts of America were quite upset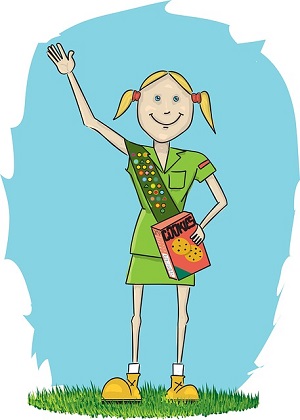 Eugene, Oregon
October 12, 2017 11:50pm CST
I wrote about this fuss back then. They were right! Today, the Boy Scouts of America announced that, 'due to demand' they are now opening their ranks to girls. I would not be surprised to see the Girl Scouts file suit for alienation of affection or something. Some say that the Boy Scouts are doing this because they are losing members and fear for their survival. I would not be surprised if this is true. I voiced the opinion, back in August, that they should leave well enough alone. Girls thrive in non-competitive situations and the boys try to take over. Now, the Boy Scouts have admitted they are after the girls too. It will be interesting to see how this plays out. Were you a Boy Scout or a Girl Scout? I was neither. May the best Scout win!
10 responses

• Los Angeles, California
13 Oct
In the name of fairness, the Girl Scouts need to open their doors to boys. Maybe just blend the two into the Generic Scouts.

• Eugene, Oregon
13 Oct
I like the name, maybe merge and be the Unisex Scouts?

• Eugene, Oregon
13 Oct


• Colorado Springs, Colorado
13 Oct
I remember when they started letting girls play Little League. That was a little weird at first.

• Eugene, Oregon
13 Oct
I am sure it was. I was not a part of Little League.

• Colorado Springs, Colorado
13 Oct

• Eugene, Oregon
13 Oct
@teamfreak16
Nice. I was working in grocery stores from age 14, so lacked time really.



• Eugene, Oregon
13 Oct
Yes, boys tend to try to take over. Studies have shown that girls thrive in an all girls environment.

• Switzerland
13 Oct
@JamesHxstatic
This is my opinion and this is something hard to change.

• Gainesville, Florida
13 Oct
I wondering if there can be an amicable way to resolve this in a way that both come out winners and ensure their survival. Why don't they merge together into one organization, and just call it Scouting or Scouts or something like that. Then they can both keep their individual troops, but meet together on the same nights for group activities before splitting off into boys and girls to do separate activities. On weekend adventures, boys can partake in girls adventures and girls can partake in boys adventures. Or something like that. If both sides truly want what's best for their organization, they will find a way to work closely together as one unit.

• Eugene, Oregon
13 Oct
That sounds like it could be a viable solution, Jeff. They might both survive.


• Eugene, Oregon
13 Oct
And I'm sure you were a good one too.

• China
13 Oct
I remember your August's post talking about Scouts.Now it seems that the tables have been turned.

• Boise, Idaho
14 Oct
I will be interested in seeing how this all comes out too.


• United States
13 Oct
I was a girl scout for many years and enjoyed my time there. I think it's crazy that the Boy Scouts are now accepting girls and wonder why it has become such an issue that everything has to be open to both boys and girls these days.