Doubting Thomas: Not 'Perishing,' but ... Not 'Blessed'?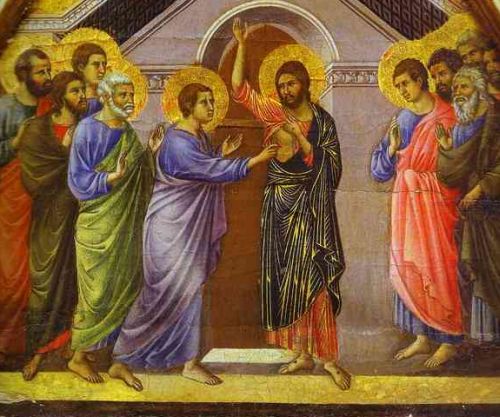 Oklahoma City, Oklahoma
October 13, 2017 9:43am CST
I'd like to think I'm a disciple 'of Thomas' (in Christ ... or 'a disciple of Christ via Thomas'), and I suppose that's how most people are ... subconsciously, at least. Oh, we accept the validity of 'the Jesus Christ myth' on faith (and yes, it is a myth---"a traditional story, especially one concerning the early history of a people or explaining some natural or social phenomenon, and typically involving supernatural beings or events," or basically 'any history-tale you weren't there to witness'); but we don't believe 'things exist a certain way' until we see them. I was thinking about this today, and I asked myself, "Do we need to save Saint Thomas from hell (since he wouldn't believe in Jesus' resurrection until he saw Jesus)?" No, not if the only prerequisite of Salvation is 'that you believe.' https://www.biblegateway.com/passage/?search=John+3%3A16%3B+John+20%3A24-29&version=KJV But is St. Thomas in Heaven or in some Purgatory? Does one need to be "blessed" to get into Heaven?
1 response

• Philippines
14 Oct 17
As the story continued, our Lord came back and asked Thomas to touch His wounds, Thomas uttered, "My Lord and my God." Thomas, like most of us, wanted to see in order to believe. Thomas was our Lord's example that in faith, we believe that He is our God. Thomas never doubted again. He went to preach Jesus to those who knew not of the Gospel. Thomas was martyred. Is he in heaven with our master? It's been two centuries since, I believe he is.

• Oklahoma City, Oklahoma
14 Oct 17
Funny how all the "proof" Thomas needed was 'that Jesus invited him to feel the wounds'---I don't know if he ever actually touched them.

• Philippines
15 Oct 17
@mythociate
ask for a vision, perhaps Thomas will grant one for you. Then you will have a proof, which others might not readily believe. In your case, if you tell me, I will believe.