How NOT to Take a Dump!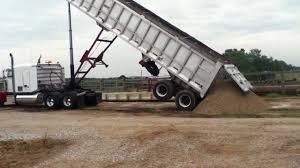 Virginia Beach, Virginia
October 13, 2017 1:53pm CST
I mentioned in a previous post that I was injured years ago in a trucking accident. That is why I need surgery to repair it. Well, here is the story behind it all. After a very painful divorce that cost me my children, church, and ministry, I could no longer function in the capacity I was trained for. The only work available to keep me going came in the form of a demolition contractor. Some days I operated heavy equipment while on others I either drove "Low-boy", which hauls the machinery, or I might spend my time at the wheel of a tractor-trailer dump. It certainly paid to be versatile. One very windy morning in MARCH, when we were scheduled to demolish an old hotel, I informed my boss that it might not be a good day to be using this particular truck. It was quite a bit riskier than employing the 10-wheel tandem dump trucks we had. "Nonsense!" he bellowed, "You can drive it today or go home!" Living paycheck to paycheck then, I couldn't afford the time off. Reluctantly, I picked up my load of broken concrete and took it to the dump. I was to unload at the top of an overwhelmingly breezy hill. Raising the dump bed very slowly I watched for signs that might tip it. I kept my hand on the hydraulic release so I could bring it back down real fast if it did. ¾'s of the way up, the body began to lean precariously to the right. I hit the lever but nothing happened. Those big hydraulic dump cylinders were now in such a twisted bind that they couldn't slide back down. Knowing what was coming next, I instinctively grabbed the door handle. Too LATE. Another gust hit the raised body and the whole thing tumbled with such a crash that it shook my grandma's preserves. I was thrown across the 8' wide cab and landed right smack on top of my head, revealing some of the prettiest colors I had ever seen. It took me a minute to recover enough to kick out the windshield and escape. It was determined that I suffered from a severe concussion but there were no broken bones. Nobody examined my neck. I had no idea that any permanent thing was wrong with it. Although it has flared up a few times over the years, I never considered addressing the problem. I have never been completely pain-free since I was 35 so what was one more? My ignorance has cost me dearly. I should have had it corrected long ago. Not only is the procedure riskier because of age, I am no longer eligible for the ice cream and lollipops they give you after surgery.
6 responses

• East Tawas, Michigan
13 Oct 17
So, that boss actually caused you to get in a critical accident! This could have killed you, but he'd never admit to his error, probably:(


• Virginia Beach, Virginia
13 Oct 17
No
@kobesbuddy
he ended up blaming ME. You don't want to hear about the fist fight.

• East Tawas, Michigan
13 Oct 17
@UncleJoe
What an awful boss, blaming you for the mishap? That's terrible!


• United States
13 Oct 17
Wow! That was an awful injury that you sustained. Those old injuries do seem to worsen over time. Well, no blaming yourself for not attending to it years ago, most humans don't if they can still function. I pray the surgery goes incredibly well for you.




• Waikoloa, Hawaii
15 Oct 17
have you drive a dump truck before?

• United States
14 Oct 17
I don't remember seeing any pretty colors when I landed on my head -- just black! I must not have hit my head hard enough.

In all seriousness though, I am sorry that happened to you and that it's come back to haunt you. My neurologist recently revealed that I have some brain damage that effects my reflexes and motor skills due to a concussion I had when I was 9. (Of course maybe the second concussion I had when I was 25 added to it.) Those old injuries certainly have a way to come back and bite you in the rear (or neck, in your case.) I hope that your surgery goes smoothly and that Becky pampers you with ice cream and lollipops while you recover.