Back from the gym

Cuyahoga Falls, Ohio
October 13, 2017 6:29pm CST
This afternoon it was nice with the sun and a gentle breeze, when I walked to gym for yoga class. We had a nice-sized class of yogis. Amanda didn't come today. So I hope to see her next week. It did feel good to do yoga after a long and rough week so far. And when I left the gym, it had gotten dark and was 70 degrees. Is it time to turn back the clock soon enough? Here's the new poses we did in class along with our sun and moon salutations: 2 Half Moon Poses (1x/side) 2 Opened Gate Poses (1x/side) 2 Arm-Leg Poses (1x/side) 2 Bridge Poses 1 Camel Pose 1 Cowface Pose 2 Intense Side Stretches 1 Legs up The Wall Pose That's about it for tonight.
8 responses

• Philippines
13 Oct
The poses are interesting! I will check how that cowface looks like.

• Cuyahoga Falls, Ohio
14 Oct
I'm sure you can find it online.


• Cuyahoga Falls, Ohio
14 Oct
yeah. It's a pose when you have one arm behind your head and the other next to it. I'll be happy to show you a photo of it.

• Cuyahoga Falls, Ohio
14 Oct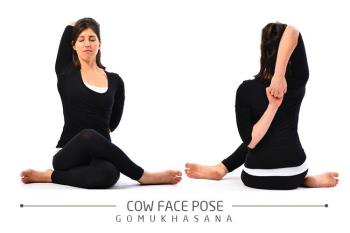 • Banks, Oregon
14 Oct
Glad you had another good day of yoga.

• Philippines
14 Oct
Enjoy your wellness program, its good for our health.

• Los Angeles, California
14 Oct
We turn back the clocks the first weekend in November.

• Cuyahoga Falls, Ohio
14 Oct
Wow. That's about two weekends away.

• Rochester, New York
14 Oct
My youngest niece will do random Yoga poses. As she's doing them she says "Aummmm..." She's a goof, but loves stretching like that.

• Cuyahoga Falls, Ohio
14 Oct
She's doing the Om mantra. I do love stretching too.

• Preston, England
15 Oct
always good to do something you enjoy after a demanding week

• Malaysia
14 Oct
wow so many pose for the yoga, all the while I thought there is only one pose, the Buddha pose

• Cuyahoga Falls, Ohio
14 Oct
Those are only the new poses we do each week. I never heard of that pose.