MyLot Redirections...?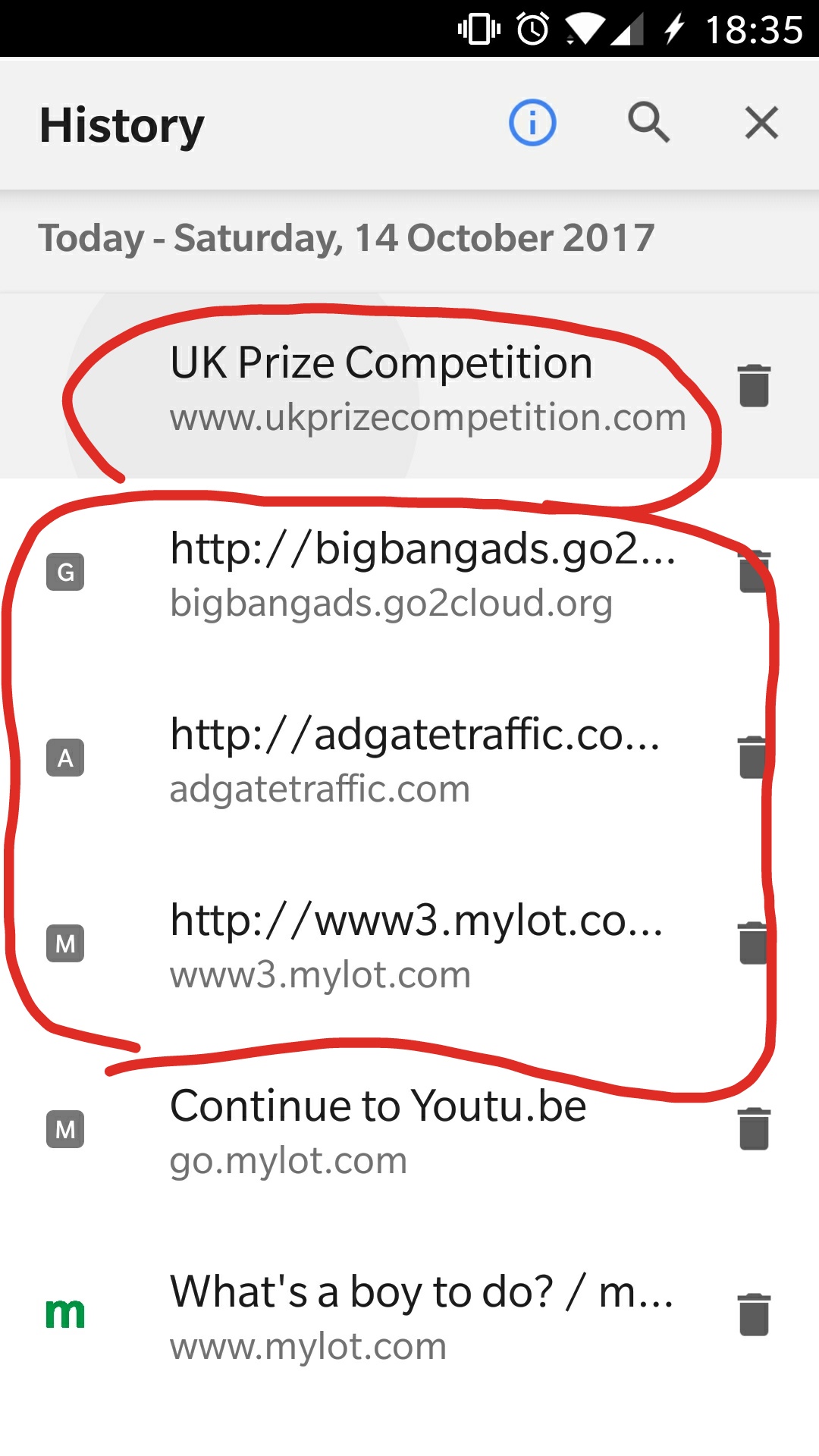 Malaga, Spain
October 14, 2017 12:45pm CST
So I can go to a post here on myLot, select the link to a Don McLean video (Vincent) on that post, and when I get back to Chrome from the YouTube app, my Chrome is displaying some random ad, or, worse, telling me I have to quickly act to prevent some virus getting installed... Or I might be presented with a page of somewhat scantily-clad women... The URLs in my Chrome history, from when I selected the post by someone whose posts I interact with here on myLot, to going back to whatever surprise page Chrome has waiting for me, is shown above for @mylotbugs to peruse, if it helps. Read the URLs from the bottom of the screenshot up to the top. It does appear that the myLot prompt to go to Youtube is the page after which the unwanted actions happen... I have given my phone a good going over using the malware detection and removal instructions at the URL below, all seems clear and clean health wise on the phone itself. What is it, @mylotbugs or @GoAskAlice? Btw: the url in my browser history above, the one for www3.mylot... goes to the destination that I have left in Admin & Bugs' PM. It lands in different places each time you access it!


This page contains step by step instructions on how to remove adware, pop-up ads, redirects or a virus from Android phone.
6 responses

• United States
14 Oct 17
So many are dealing with this it seems. I am not, but I have read discussions stating the same problem you are having. Is it just happening with those using their phones to myLot? I have no problems using Chrome on my laptop.

• Malaga, Spain
14 Oct 17
So I gather. It does not seem to affect me on my laptop, but I have a swathe of McAfee antivirus and Site advisor protection on the laptop... The phone is how I usually browse myLot, and it can be a little disconcerting when unannounced pictures pop up all over the place...

• Malaga, Spain
22 Oct 17
@DaddyEvil
There is another reason McAfee is on the laptop, y'see... . Still, least said, soonest mended on that front. On the phone, did you see the article I linked to about how to check your 'droid is malware-free? Yeah, so much hype out there, 7 layers of safety applies to Chromebooks too, as I recall.

• Aurora, Missouri
22 Oct 17
@pgntwo
Yes, I did see the article. I've always plugged my phone into my pc and used IoBit's Advanced SystemCare tools to scan my phone. Using the tools from that app to clean and check my phone means fewer apps and less space used on my phone to do the same job with better results. No trash from unneeded apps left on my phone and I can see everything being done to my phone on my PC's screen! Just like Zemana, Advanced SystemCare is another free app. I'm sorry, I have very little experience with Chromebooks or Cloudbooks, either one. If they use Android programming, then they should have the same built-in security.


• El Paso, Texas
14 Oct 17
I have had this happen to me in the past and it turned out to be what they call P.U.P. (potentially unwanted programs) so I talked to Microsoft about it and they told me the best way to rid my PC of this problem was to uninstall Chrome ... that's the browser I was using at the time ... then shut down and wait a short while and when I rebooted I could either reinstall Chrome or use Edge or IE, I no longer suffer this kind of harassment.

• El Paso, Texas
14 Oct 17
I've had to uninstall Chrome once about 2 months ago
@pgntwo
but lucky for me it hasn't been troublesome lately. I figure hackers learn how to get around any modifications we make to hinder them, sadly they are smarter than I would like.


• Daytona Beach, Florida
14 Oct 17
My Chrome on my PC is alright. I don't have a smartphone. Hope that gets cleared up.


• Aurora, Missouri
22 Oct 17
@pgntwo
Hmmm... Seeing those bothered you, pgn


? Or maybe it was your youngest talking to you when you got redirected that put a

crimp in your enjoyment



?!

• Malaga, Spain
23 Oct 17
@DaddyEvil
Sitting in a public area in a coffee shop affords one little time to savour such tidbits, when chance flings them onto the screen...



• United States
16 Oct 17



• Preston, England
15 Oct 17
hope they can figure it out for you